3M'S PERFORMANCE SPRAY GUN
BY ALLISON ROGERS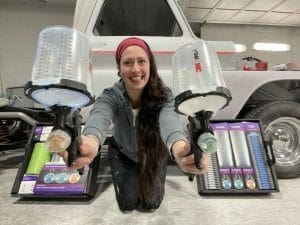 3M's Automotive Aftermarket division unleashed its latest product innovation last month, shaking up the spraying standard for the collision repair industry.
In development for more than ten years, 3M Automotive Aftermarket Application Development Specialist Bill Suzuki says the new 3M Performance Spray Gun holds the power to improve not only a painter's life but a business's operations.
"We've significantly improved how we spray," Suzuki told Bodyworx Professional. The new 3M Performance Spray gun excels especially where time is concerned, said Suzuki. "Using the Performance Spray Gun, cycle time—both with cleaning and changeover—can really be enhanced to take on more throughput. The ability to spray multiple materials in a given booth cycle and change coatings simply by wiping the needle clean is a game-changer for painters."
The company also touts 78 percent transfer efficiency at HVLP settings with the new tool. Designed with automotive refinishing topcoats in mind, 3M also offers a variety of atomizing heads for the Performance Spray Gun, ranging from 1.2 mm to 2 mm.
"There's an attachment for nearly every coating in the bodyshop," said Suzuki. "Soon we'll have attachments to spray thicker coatings— that's a next phase launch but keep an eye out for that."
Even still, Suzuki says most of the feedback he's received has been on the spray gun's impressive lightweight feel, which is said to be up to 50 percent lighter than other industry sprayers.
"We've heard a lot of surprise from our customers using the Performance Spray gun for the first time," he said. "Metal spray guns have been prevalent forever; coming in with a composite gun shakes up the industry a bit. But we are ready to open people's minds." Hilary Noack, owner of Toronto's all-female bodyshop Ink 'n' Iron, was among the first to publicly review the spray gun.
Noack shared a video to the Ink 'n' Iron YouTube channel featuring her first thoughts on the new product, where she praised the tool's easy cleaning process and lightweight feel.
"The cool thing about this gun is that no fluid actually passes through the body, so it makes it really easy to clean," said Noack. "That's really great if you share a gun with multiple people at your shop.
"These tips come in all different sizes. Whatever you're spraying—water-based, solvents, solids, metallics, sealers, primer—there's a tip for that," said Noack. "You just twist the end and the whole thing comes off—all you need to clean is the fluid needle, grab your next tip and it locks into place. Lock in your PPS cup, and you're ready to go."
Noack agreed that the new sprayer is even lighter than 3M's AccuSpray. "We do a lot of restoration work at Ink 'n' Iron—big old cars from the '50s and '60s—you could be spraying a car all day. Having a gun that is 50 percent lighter than a conventional spraygun saves so much strain on your arm and shoulders and that's a huge selling factor for me."
Customers can request a demo of the 3M Performance Spray Gun at 3M.ca/Collision- SprayGun.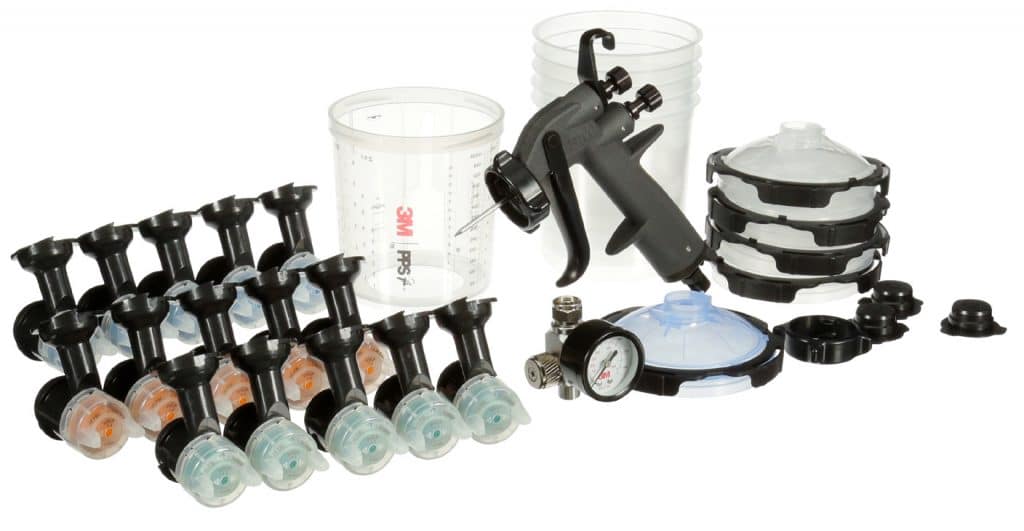 The new 3M Performance Spray Gun has been ten years in the making.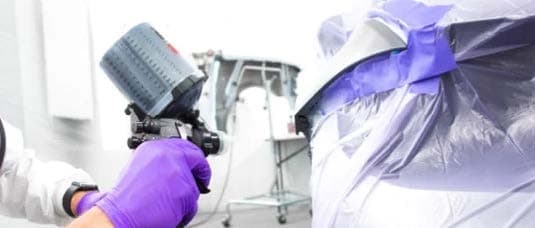 The new tool touts 78 percent transfer efficiency at HVLP settings.