ST. JOSEPH HIGH SCHOOL'S LEGENDARY AUTOBODY PROGRAM
Learning the skills of the collision repair trade in high school could bring more of the younger generation to the industry— at least that's what St. Joseph Catholic High School teacher Stefano Liessi believes.
Liessi has been teaching the autobody program at the Edmonton school for the past five years. But this isn't just a class about cars. Liessi says it's the only autobody high school program in the city and it gives students the hands-on, real-world experience of working in a collision repair shop.
"We run the program like an actual shop," Liessi said. "The students are exposed to real scenarios, estimating, parts procurement, new and used parts, various levels of repairs, and customer requirements. I try my best to have all the students experience every aspect of the collision repair industry."
Liessi also didn't fail to point out that the vehicles these students are working on are not just props. They're actually client vehicles, so these students are being taught the proper repair procedures.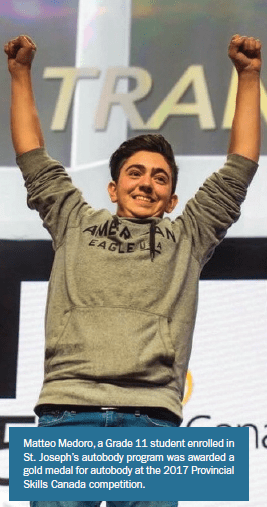 "Therefore the repairs must meet industry standards. It may take them much longer, but you will get a repair that is equivalent, if not better, than industry standards."
St. Joseph High School is known for its Career Technical Studies (CTS), ones that give students real-life experience in a specific career. As the only school in the Edmonton area with the space to retain a spray booth and other equipment for the autobody program, it also carries the square footage of space for a number of other programs. Baking, construction, cosmetology, fashion studio, com tech, culinary and a top-notch welding program are among the many.
While it might seem that the autobody program has always been a favourite to many students, Liessi admits that it has only just begun to slowly grow in popularity because there is such a negative stigma attached to the trades.
One of the common misconceptions that parents often comment to him about is that this is an industry that is going nowhere. "The fact is, there is a great deal of knowledge and competency that goes into repairs on today's vehicles, and the industry is gaining support with the OE's increasingly as we move forward."
The other comments he's heard are revolved around the "unhealthy environment" that is associated with a career in autobody. "This is an incredibly misguided statement. We have seen great advancements with equipment and technology with regard to health and safety in our industry, fresh air masks, auto darkening, prep stalls, and air makeups, to name a few. Not to mention the increased awareness that is growing amongst the tradespeople about these available safety items."
Although the industry gets caught up in negative stigmas, the program has also brought proven success to students. Over the past few years, students from the program have been taking home gold, silver and bronze medals from competing in the Skills Canada Provincial and National Competitions. Matteo Medoro is a St. Joseph High School graduate and former student in the autobody program for both Grades 11 and 12. Medoro had competed in the Provincial Skills Canada competition for autobody two years in a row and was victorious in both. "In Grade 11, I won gold in provincials and was one away from getting bronze in nationals. In Grade 12, I won gold again in provincials and ended up winning silver in nationals," he said.
But for Medoro, this wasn't just a high school class he had to take. "The class was the best thing about the school and I always looked forward to going there after my main classes." For a student who wants to pursue a career in autobody, he feels as though he is already ahead.
Emma Lawes is another recent graduate and was victorious in the Skills Canada provincial and national competition for car painting. Being so successful in her high school autobody class, she is now pursuing a career in car painting, making $25-an-hour. St. Joseph's autobody program offers students a program after high school that acts as a pre-employment or apprenticeship experience. Students can come back after Grade 12 and enter the program full-time where this would give them the ability to write the first year technical exam for the AIT apprenticeship course.
"As we speak there are currently eight students that are gainfully employed in the industry because of this opportunity," said Liessi.