A HIGH SCHOOL CO-OP LED MICHAEL ST. GERMAIN TO A LIFE IN LUXURY
BY ALLISON ROGERS
Today, you might be in the paint booth. Maybe you're welding. Or maybe you're busting out some sick new skills you learned at a recent training session.
No matter which corner of the collision centre you're in, you could already be well on the way to a lifelong career in this sprawling industry—and a happy one, at that. The best part of being here is that we never know what tomorrow, or ten years from now, may hold. Take Michael St. Germain, for example.
When he took on his first industry gig—a co-op role where he spent half his school day in the shop—he never expected he'd one day be the manager of a Mercedes-Benz collision centre. "I ended up in collision by fluke, really, and because I had decided to take on a new challenge," Michael told Bodyworx Professional during a shop visit in August. "I felt I had reached my ceiling at my current job, and I wanted more."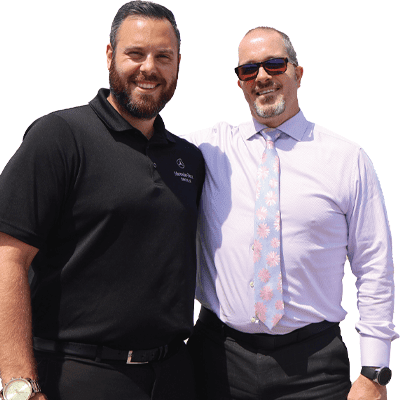 But Michael had long been a member of the automotive industry before entering the collision space. Like many others in this field, he ended up in the industry thanks to a deep-seated love of cars.
"My mom always jokes that I took forever to walk because I was always on the ground playing with my toy cars." After his high school co-op, Michael began a professional career in the dealership world and as a tire and lube technician. He worked in a handful of other roles over the years before he decided it was time to secure a role that fit his true potential.
He applied to some dealership positions and stumbled across a role at Mercedes-Benz Oakville Collision Centre. It was December, and the job wouldn't be ready for Michael until February—but something told him this was his role to take. "It seemed a no-brainer to take the job from Mercedes-Benz. So, I did."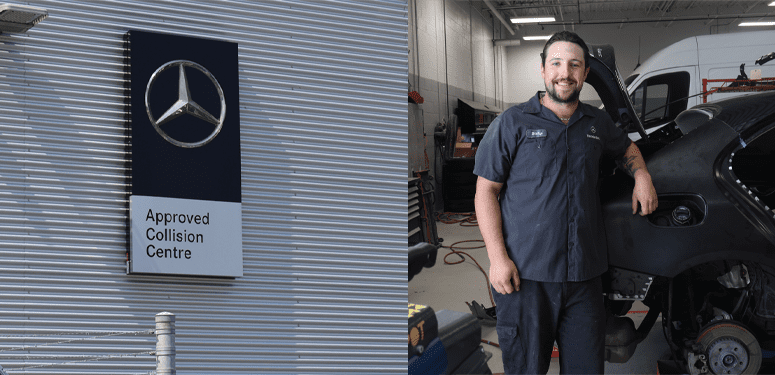 Michael first began at Mercedes-Benz Oakville Collision as an advisor. After a year in the advisory role, he took a shot at the open collision centre manager slot and got the job. "Now, 11 and a half years later, here I am."
When he first stepped into the role, Michael says he took on a "out with the old, in with the new" mantra. He took steps to form relationships with valuable partners that could drive business and made sure his facility was always on the forefront of the future. His efforts paid off. After ten years as manager, Michael had helped triple production at the collision centre, all while fostering a sparkling reputation across the board.
"One of my biggest drivers is removing the negative stigma in the collision industry—that we're here to scam you and rip people off. You can be successful and do things by the book. There's no funny business under the table here, and we get work [orders] because of our reputation and the quality repairs we do." To corroborate those claims—Mercedes-Benz Oakville Collision Centre has a 4.6-star Google rating and a 5/5 on Facebook. That rep extends beyond the public, too—other industry leaders recognize how Michael has helped transform the facility in a true state-of-the-art masterpiece. As a matter of fact, during Bodyworx Professional's own visit to the shop, an industry rep had stopped by to show off Michael's facility to some partners. Michael also has a reputation for fostering a solid work culture among his team, which, by automotive standards, is relatively young. "I've created a culture where our team likes coming to work every day. I want everyone to have fun, to have a good time—but also to remain serious about our work, of course.
"I've worked for a lot of managers. I didn't like a lot of things that many of them did. So, I took those unfavourable situations and vowed to never be that type of manager myself."
Mercedes-Benz Oakville Collision Centre has three body technicians on its full-time staff; they also have three body tech apprentices. "Some might think that's a lot for a shop to take on, especially with our volume, but I'm building a future for our business. This positive culture is clear after a walk through the collision centre. The work flows seamlessly through the sprawling production floor, but the team was happy to stop and chat with us despite our interruption of their work.
When we ran into Kyle Thrasher, collision centre team lead, in the parking lot, he was all smiles "Yeah, it's pretty rare to see a team as young as ours. I mean, I'm 31 and I'm one of the oldest here!" joked Kyle. Billy, lead technician on the production floor, and Tom, a third-year apprentice, said it's the little details that add up to make Mercedes-Benz such a great place to work.
"It's the only shop I've ever worked in that has air conditioning," said Billy. "On days like today, where it's almost 30 degrees Celsius, that's just the best." "You should have seen them each on their first day," teased Michael. "We turned the air conditioning on, and they just looked up in awe." Michael is not the type of manager that hides out in a closed-door office. His door is always open, and he makes a point to check-in with his team multiple times a day—but not in a right-over-your-shoulder kind of way.
"Communication is everything. If your team doesn't feel safe speaking candidly with you, you've got a problem. I'm a transparent manager, one hundred percent. I keep our team in the loop on everything we do, and I'm open with them about our financials. "This business is my baby. And I strive to make our entire team really feel and understand that they are integral to our continued success."