SASKATCHEWAN POLYTECHNIC OFFERS CAMPERS A TASTE OF THE TRADES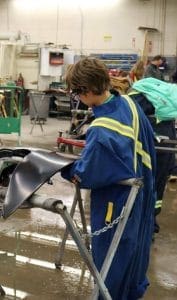 In general, camp-going teens have a deeply ingrained fear of mask-wearers holding sharp or heavy objects, but this is not true of the attendees of Saskatchewan Polytechnic's summer program.
Saskatchewan Polytechnic is Saskatchewan's primary post-secondary tech and skills training institute. But when school's out for the summer, teens take to the campus for a hands-on experience in the trades.
This past July, campers between the ages of 13 and 15 took part in a week-long program that introduced them to the basics of several professions in the skilled trades, with a heavy focus on welding and other autobody work. Campers were given an opportunity to test auto body repair equipment themselves, checking oil, changing tires and even learning how to jumpstart a dead battery. Led by industry experts—college faculty, students and alumni— the campers got a taste of what working in the trades is like while being moulded into future repairers themselves.
Campers at Saskatchewan Polytechnic can also brush up on their culinary skills, learn how to weld, or try their hand out at basic carpentry. Many of the campers entered the week with little to no prior knowledge or experience working in the trades. By the end of the week, several campers were reported to be considering careers in the auto industry.
"The students really got their hands dirty learning the basics of vehicle maintenance," said a representative from the camp. "It was so much fun!" Saskatchewan Polytechnic also offered a girls-only version of the trades camp, giving young girls between ages 13 and 15 a chance to cultivate their interests in automotive repair, as well as welding and carpentry, in a non-judgemental and more focused environment. The camps are designed to dispel myths around females pursuing trades careers.
Saskatchewan Polytechnic offers weeklong trades-oriented summer camps every year. For more information on next year's offered sessions, visit saskpolytech.ca.