By Barett Poley-November 9, 2016     
Sometimes irony presents itself in very coincidental, very funny ways in the real world. They say that gunpowder was invented in a bid to create a cure for death, and have you ever heard of a fire station burning down? Or a marriage counselor filing for divorce? Strange things happen every day, and in the autobody collision industry, we have our share of ironic situations – here are some of the top stories of Cars have crashing into Bodyshops, collision repair centres, or garages.
Tesla Crashes into Mercedes Benz Dealership:

Though not actually a collision repair centre or bodyshop, this story has to get the first spot just for the sheer amount of damage that was caused; not only to the dealership, but to the cars involved. The Model S, which retails from US$75,000 (for the RWD 325 BHP version) to US$135,700 (for the AWD 525BHP highest level trim), with a drunk man behind the wheel, managed to fly some 30 feet over a hill and shrubline, landing firmly on top of a brand new Mercedes E220D. The turbodiesel Europe-exclusive E-class, which retails for £35,935, (about USD$50,000) was crushed from the top down. Add in the obvious property damage to the dealership, and you've got one expensive accident. If you watch the video, it seems like the E-class actually held up relatively well to the much heavier vehicle landing on top of it! Even still, the driver is lucky to be alive. Don't drink and drive!
Youtube (slightly explicit language): https://youtu.be/jwtATsAlx2A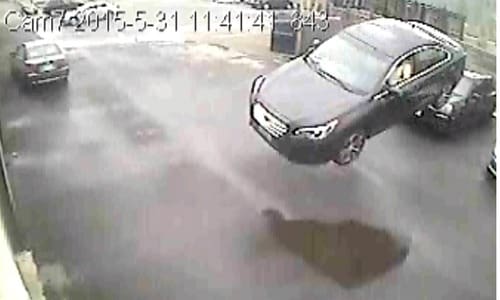 Airborne Crash into North York Autobody Repair Shop:

If you're sensing a theme here, I swear it's accidental. Apparently flying cars are more common than one would think – especially cars flying directly into repair shops. This one, though just as spectacular as our #1 spot, caused a little bit less damage, earning it a spot at #2. The driver, though he was rushed to hospital, survived. The crash occurred when the man slammed on the accelerator instead of the brake pedal in his black Subaru Legacy – flying through the air over a grassy area and right into a collision repair shop. If you look at the aftermath, though, I don't think they'll be able to do much for the car! (Images courtesy of CTV Toronto)
Woman Crashes into Porsche Custom Bodyshop:

This collision lead to charges of intoxicated driving and even assault, after an Austin woman drove her car into TPWS inc, a Porsche specialist that has been serving the Austin area and beyond since 1970. The shop, which provided services from regular inspections and collision repair to custom fabrications and bodywork, suffered extensive damages when the 24-year-old culprit crashed right into the middle of the shop while driving home, drunk. She was charged with a 3rd degree felony, and could have been charged with manslaughter, had her passenger died. Thankfully both people in the car survived, though the business had to completely rebuild after the crash. The only pictures available hardly show the extent of the damage, as the car was completely inside the shop after the crash! (Picture Courtesy of Austin News)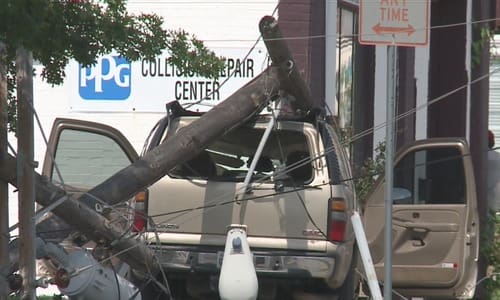 GMC Tahoe Wrecks into Sherman Texas Autobody/Collision Repair Shop:
Apparently Texas is a popular state for such collisions to occur. This collision, unlike some of the others, occurred in broad daylight. The owner of the business was in the middle of working on a customer's car when the crash occurred. The GMC Tahoe in question wrecked through several power and phone lines before coming to a rest in the wall of the autobody shop, knocking out power to over a thousand people. Despite the power loss, nobody was hurt, including the reckless driver, who even tried to flee on foot before police found him. (Image courtesy of Chelsi Smith KXII.com)
Unlicensed Maine Driver Ends Police Chase by Crashing Into Autobody Collision Shop:
Though the headline seems exciting, this crash was relatively tame compared to the flying tesla or GMC tahoe covered in power lines. A 21 year old man was pulled over originally for a burnt out license plate-light, and ended up being charged with a felony and misdemeanors – which could have been totally avoided had he just pulled over normally. In such cases, the police don't even often ask for your license, they'll just warn you and send you on your way, but the 21 year old took off as soon as the police officer got out of his car. His escape didn't last long, though, as one minute later he crashed into three cars and a Yarmouth collision shop. Nobody was harmed, but three of the shops cars were damaged, and there was extensive property damage, as well. (Picture Courtesy of Yarmouth Police)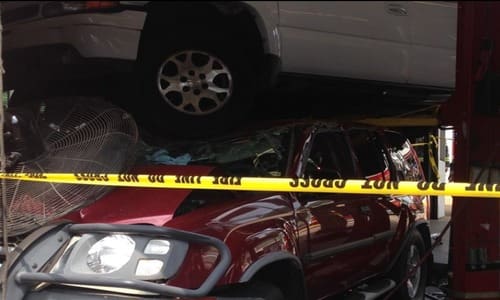 Newport Virginia Mechanic Working on Car is hit when Woman Drives Into his Shop:
A mechanic was critically injured in a Newport Firestone Service Centre when a woman mixed up her accelerator and brake pedal, and her car took off. How is this happening so often? Who is giving these people their licenses? The woman, who was 21, was not injured, but the Mechanic was rushed to hospital. Thankfully he is expected to make a full recover, but even still, it seems like an accident that could have been easily prevented with some decent driving training. (Image courtesy of Newport police department)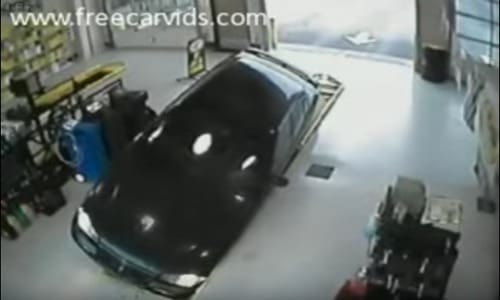 A little bit of humour! Car Drives Right into Mechanics Pit in Auto Shop:
How about this one? A story where minimal damage was caused to the shop, nobody was hurt, and everything would have been back to normal for the poor collision repair experts and mechanics in a few hours. Compared to the other stories it seems like almost a miracle. In the video, you can see the shop worker waving his arms in warning as the customer drives directly into the mechanics pit, wedging their vehicle's driver-side wheels into the pit, causing very little actual damage, but making for a funny "fail!" video. Check it out here: https://www.youtube.com/watch?v=3WVk7K6X3dI