COLLEGE OF NEW CALEDONIA BLENDS ONLINE AND IN-CLASS TRAINING FOR APPRENTICES
BY CINDY MACDONALD
For the first time, the College of New Caledonia (CNC) offered an automotive glass technician apprentice certification program in the fall of 2018. This program is the first trade at CNC to use a blended online/ face-to-face model. The 16-week course will see students complete 15 weeks online with the last week spent in the shop at CNC applying their knowledge in a practical setting. This online model allows students to get their certification without having to leave work for long periods of time and makes it more accessible to students outside the Prince George area of British Columbia. "Blended delivery can really enhance the apprenticeship experience," said program instructor Ken Rowell. "This allows an apprentice to spend more time learning at their job while still being able to develop a network of peers outside of their workplace."
Automotive glass technicians are in high demand in northern B.C. CNC opened two sections of the program, with registered students from local glass shops, dealerships and communities as far away as Terrace, B.C. (almost 600 kilometres from Prince George). "We hoped for at least enough interest to get the program running. We ended up receiving a very large response and filled two 16-seat classes, says Rowell. The classes are running as one group for the online portion of the program, while the practical weeks will be separated into two groups. Frank Rossi, CNC's dean of trades and technologies, says the college is very responsive to the communities it serves. The auto glass program was developed and launched very quickly, Rowell adds. "I was very impressed by the CNC trades department's ability to take an identified industry need and then consult, develop, fund, acquire equipment and start a program like this in such a short time. It is quite a bit of work for all involved."
BLENDED FORMAT BEST OF BOTH WORLDS
Speaking to Bodyworx Professional in December, Rowell said the online portion of the course was going well. "Everyone has a personal schedule and they are doing well. One of the big benefits of online education is the ability for a student to make it fit their life. Many of the apprentices have a lot of experience and skill, but found it difficult to get their certifications in the North because nothing had been offered locally."
Rowell says the blended format has benefits for both novice and experienced technicians. For less experienced students, the course helps formalize and improve on traditional workplace training.
More experienced technicians are less in need of the hands-on practice, but value the theoretical learning. Rowell says the students will have completed several practical workplace assessments by the time they come to the college for their week of in-shop classes in addition to all the online work. "The practical week is largely designed for assessment and review. I am sure it will be especially good for the more entry-level apprentices in the classes to learn not only from me, but from those experienced people in their class too. It should be a good time." The instructor has been actively encouraging communication among the students via an online forum to create a learning community that he hopes will carry on after this course ends. "This is one of the reasons for having one group of 32 online," Rowell explains. "A modern auto glass tech needs to be a lifelong learner to keep up with the changing technology. Building a network of experts is very important for them."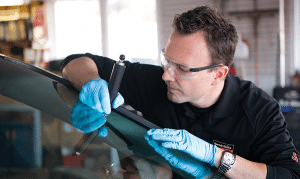 For more information about the program, contact CNC Trades by calling 250-561-5804 or emailing trades@cnc.bc.ca.