By Barett Poley – January 20, 2017  
If you thought you misread that headline, you didn't. Steve Brown, from Sallisaw Oklahoma, has 175 Chevy Impalas for sale – and no, it isn't a dealership, just a passion. The owner, who put the ad up on craigslist 15 days ago, says the cars are dated from 1958 up through 1973. According to Steve, the owner, almost all of the vehicles have good titles, and the prices start at $2000 USD and up for the post-1960 models, with the more desirable 1959 Impala's going for $4000 USD and up. What's more? Many of them are complete.
"I've got about 60-75 complete cars" Says Brown, "I was never really interested in selling parts off of the cars or picking them apart. I'd rather keep them together."
The Chevrolet Impala, when introduced in 1958 as a variant of the Bel Air, changed conventions for what a sports car could be, and set the stage for hot-rodders for generations to come. With a shorter roof than the stock models, and a longer rear deck complimenting it's timeless deeply sculpted rear-fenders. It quickly became a favorite amongst automotive enthusiasts and drivers, as it was one of the first cars of its kind to feature coil spring suspensions and air ride suspensions rather than leaf springs, making it an incredibly important vehicle in the history of lowriders and gassers alike. The beefy v8, which could make up to 315 horsepower from the factory (in 1958, remember), also helped the vehicle's popularity, which is why they are so desirable today. Steve Brown says that amongst his collection are a two of the first-year models. "I've got a 58 Wagon and a 58 two door post in my collection" says Brown, when asked about them. The gems of his collection, however, are his 1959 Impalas.
The second Generation, introduced in 1959, saw a redesign of the Impala, lengthening the vehicle, adding a new and improved X-frame chassis, and lowering the roof line by another 3 inches, adding even more style to an already incredible attractive car. It is for this reason that the 1959 is one of the most sought after models of Impala. In addition to the improved styling, the 1959-1960 Impala offered a 348 CI Turbo Thrust Special V8 with triple two-barrel carburetors, 11.25:1 compression ratio, and dual exhausts, which made a whopping 350 horsepower: a number some companies struggle to reach even today.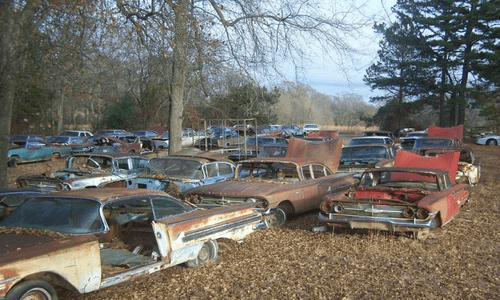 Though some of the cars are less-than-turnkey, they can still be a wealth of parts.
Though many of the cars are rusty, they can still provide excellent canvases for an entrepreneurial custom builder, as most of them have clean titles, providing an excellent opportunity for rebuilding or custom work. Due to their location in Oklahoma, they aren't as likely to have rotted frames as their snow-belt counterparts, and can provide a wealth of OEM parts that might be otherwise hard to find for a rebuild-in-progress.
For Steve Brown, the massive number of Impala's was just a natural extension of his own love for cars. "Cars just get in your blood." He says, speaking to how the collection came about, "I've always had garages and I've always built cars." He explains that the Impala Collection is a lifelong project for him. "I started working on cars when I was 15, about," he says. "Someone would call me up and say 'Hey, I've got an old Chevy would you be interested in buying it?' and as you get a little further along, somebody will call you with 20 or 30 to buy."
The Craigslist ad can be found here, if you're looking to buy one of the Impala's in his collection. For the low price of just 2000$, a vintage classic could be yours!