GM IN MEXICO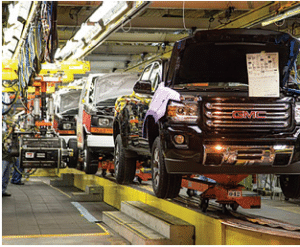 General Motors is now Mexico's largest automaker in terms of vehicle output. With more than 830,000 vehicles manufactured in Mexico last year, GM surpassed Nissan, which slid by 10 percent in 2018, to become the country's top vehicle provider. North American automotive production continues to grow in Mexico as manufacturers look to take advantage of low wages. In 2018, U.S. vehicle production slid by three percent, while Canada saw an 8.8 percent decline. In response to the news, GM stated that the company hasn't increased output capacity in Mexico for a decade and as of now has no plans to do so.
GM'S DETROIT PLANT LIVES ON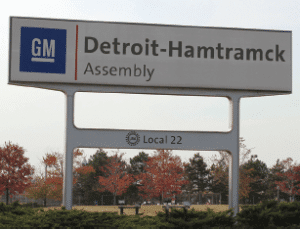 General Motors announced that its plant in Detroit will not be shutting down this year and will live to see another year. The plant, which is on the border of Detroit-Hamtramck, will remain open into January of 2020 to produce a high-performance version of the Cadillac CT6 and vehicles such as the Chevrolet Impala, that use the OEM's "Super Cruise" advanced driver assist system.
HONDA'S SEMICENTENARY
Honda Canada celebrated 50 years in April with a commemorative ceremony at the company's head office near Toronto.
Among those in attendance at the event were Toshiaki Mikoshiba, chairman and CEO of Honda North America, and Dave Gardner, president and CEO of Honda Canada. During Honda Canada's 50-year existence, it sold more than four million vehicles and became the first Japanese automaker to build vehicles in Canada. The ceremony launched a full year of anniversary activities designed to celebrate the milestone with customers, dealers, associates and partners.
Honda Canada has grown substantially since its humble beginnings as a small network of motorcycle and power-equipment dealers. Almost 19,000 associates of the automaker are employed across the country in manufacturing, sales offices and dealerships.
Honda Canada is a national network of more than 600 auto, motorcycle and powerequipment dealers. The company also is a major Canadian auto manufacturer that builds two models of automobiles, the Honda CR-V and the Honda Civic.
MAZDA'S CLEAN SWEEP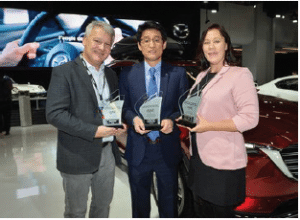 Mazda swept the most awards from the Automobile Journalists Association of Canada (AJAC), bringing them one step closer to winning the ultimate titles of Canadian Car of the Year and Canadian Utility of the Year. Mazda took home the following awards, Best Sports-Performance Car, Best Mid-Size Utility, and Best Large Utility.
VOLVO PARTS RESTRICTION
Volvo Car USA's announcement that it is restricting sales of its parts to Volvo-certified collision facilities, but the restrictions will not affect the Canadian market — at least, not immediately. A press release from Volvo states: "Effective March 1, 2019, Volvo Car USA is restricting sales of several highly specialized parts to Volvo-certified collision facilities. The motivation for this initiative is to ensure that in the event that one of these parts does need to be replaced, it is replaced by a highly skilled trained professional."
While collision repair facilities in Canada not currently certified by the Sweden-based OEM will still be able to buy parts from Volvo Car Canada, that situation may not last for long. According to Daniel Martin, Volvo Car Canada's director of customer service, the company is looking at applying the same restrictions in Canada later this year or in 2020.
"It's a matter of ensuring we have trained, certified repairers to perform the proper repairs and provide safety for the customers," says Martin, adding that Volvo Canada is not ready to implement these restrictions just yet because the program is running a bit behind.
FORD RECALL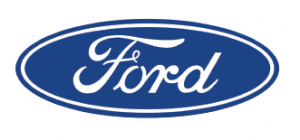 In mid-February Ford recalled approximately 1.5 million pickup trucks in North America due to the fear of their transmissions suddenly downshifting into first gear. The recall, which includes 1.26 million vehicles in the U.S. and 221,000 in Canada, covers F-150 models from 2011 to 2013 that have six-speed automatic transmissions.
Ford explained that the defect is a result of a glitch affecting the transmission speed sensor. The manufacturer has been notified of five accidents resulting from the transmission failure, including one that caused a whiplash injury. Owners of the affected vehicles began to be notified on March 4. Dealers will be updating the vehicle's power-train control software to fix the problem.