TODAY'S TOOL S DO HALF THE WORK FOR YOU
BY ALLISON ROGERS
In the ever-evolving landscape of the automotive industry, advancements in technology continue to reshape the way vehicles are manufactured and repaired. Among the most notable innovations is the integration of robotics, which has revolutionized collision repair and automotive manufacturing processes. These sophisticated machines have emerged as essential tools, enhancing efficiency, precision, and safety throughout the industry. With their ability to perform repetitive tasks with unmatched accuracy and speed, robots have become indispensable partners in the pursuit of quality, cost-effectiveness, and customer satisfaction.
In this article, we delve into the realm of robotic integrations in collision repair and automotive manufacturing, exploring the incredible capabilities and transformative impact these cutting-edge machines have on the industry.
WELDERS
Anyone in a state-of-the-art bodyshop will know that many of the top spot welders sold in today's market offer pre-loaded automated welds. A trained technician must operate the machinery, but the process of setting up a weld isn't more complicated than a few presses on a touch screen.
Fully robotic spot welders—i.e., ones that rotate and stretch without manual assistance— are more often seen on the assembly line in the production process. Vietnamese OEM VinFast employs a fleet of ABB-branded robots armed with spot welders and suction cups to weld panels together, one weld at a time. The bodies require 6,000 welds, on average, and VinFast says its Hai Phong, Vietnam factory can pump out more than 250,000 vehicles per year—but the OEM is working toward an even higher number. This is not to say such technology will never grace the collision centre floor. Today, the biggest barrier to robotic welding is the upfront cost and installation; not to mention a 360-degree-swivelling robot would require a lot of floor space. But who knows what the future might hold.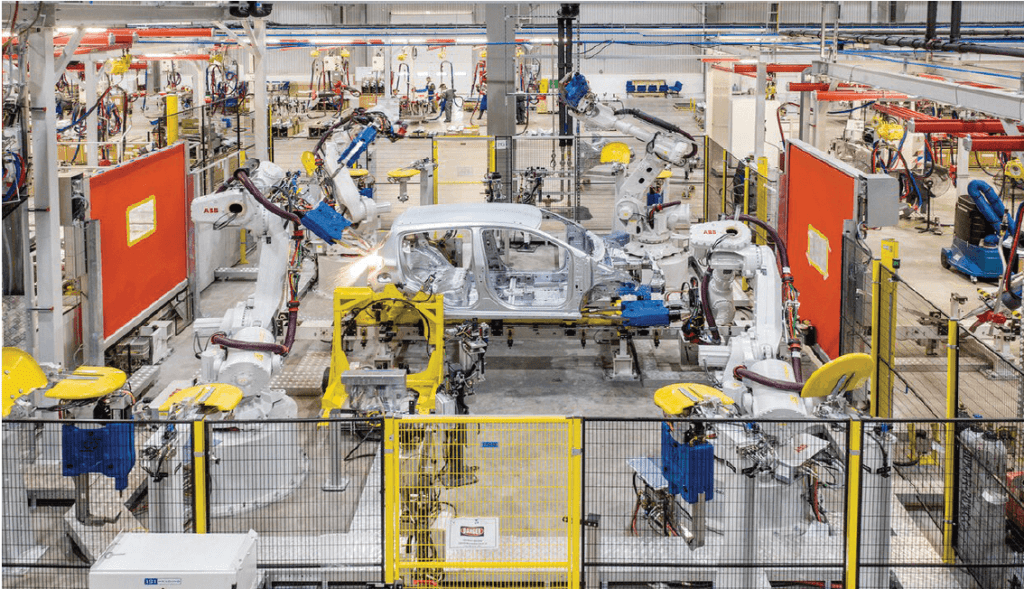 PAINT MIXERS
The paint mixing machines popping up in collision centres across the world are a real wrist-saver for any refinishing technician, serving the machines the monotonous task of mixing colours. Some systems will even colour-match for you at the same time.
PPG's automatic mixing machine Moonwalk is said to save labour time, reduce waste and "transform the mixing room," says the coatings giant. The machine replaces manual mixing processes with an "easyto- use" automated mixing system that takes about three minutes. The user loads the required tinter, additive and thinner bottles into the dispensing rack; the system then checks each bottle's barcode and automatically dispenses the correct amount of product and even prints a label.
Axalta also has its owner fully automated, hands-free mixing system, dubbed Irus Mix. The product completes the entire three-step process to scan and find the colour before mixing the correct hue. Axalta says Irus Mix can be used by anyone—not just a refinishing tech—freeing up valuable time for painters. The product is currently being rolled out across Europe and will be available globally thereafter, says Axalta.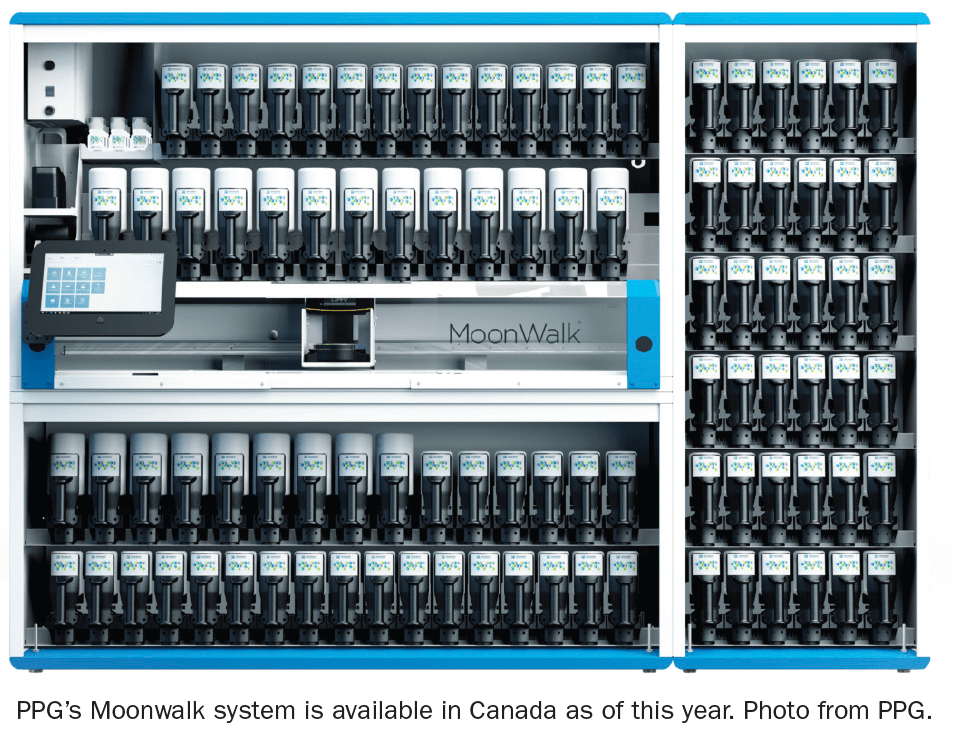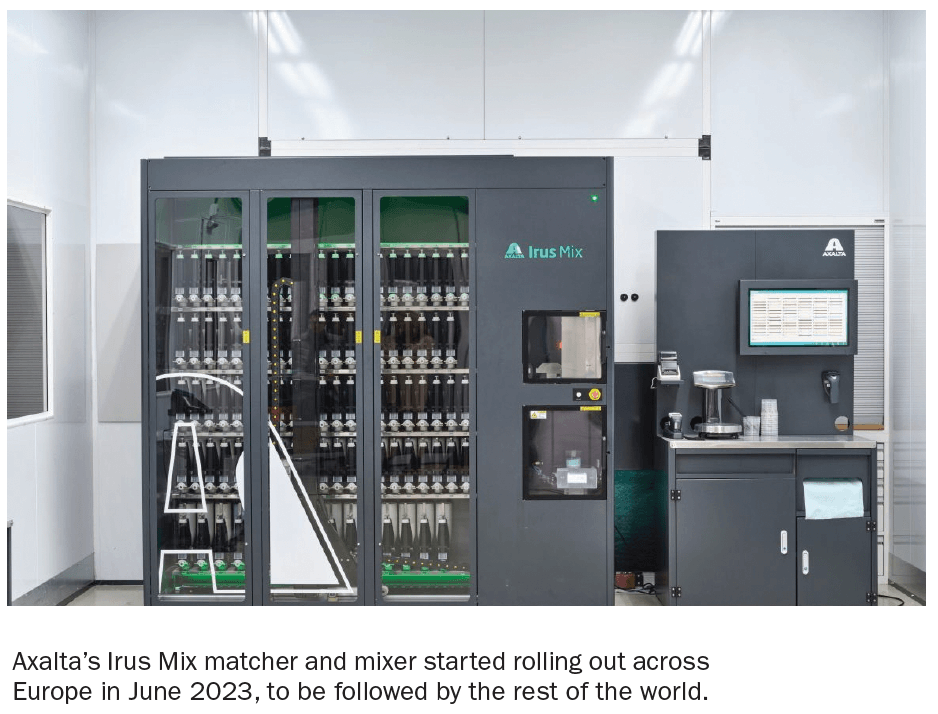 THE AUTOMATED ARTIST
That's not all the robots know, though—they've even learned how to apply coatings, even intricate pinstriping in some applications. In May 2022, ABB Robotics used its PixelPaint technology to recreate a monochromatic design with no human intervention. Equipped with 1,000 nozzles, ABB's robots completed the artwork in less than 30 minutes, according to the company. ABB also said that there was no overspray—100 percent of the paint was applied to the car bodywork—and the robots sprayed approximately 1,000 droplets per second. All in all, the company said it cuts cycle times by more than half, as no masking (or de-masking) was required.
In 2021, BMW unveiled its EcoPaintJet Pro application process for waterborne basecoats and 2K clear coat. In BMW's convention procedure, paint is atomized by a rotating bell and adheres electrostatically to the car body. The EcoPaintJet Pro method works without electrostatics, relying instead on jet application.
"The paint is applied using an orifice plate that enables high edge definition with a variable paint thickness of between 1 and appr. 50 millimetres," explained the OEM in its accompanying announcement press release. "This requires maximum precision from both the robot and application technology. It also means two different colours of paint can be used, i.e., for a contrasting roof, and stripes and other designs applied, for instance, on the hood.
"Until now, custom designs like this [could] only be realized using manual masking."
BMW also says this process eliminates overspray, much like ABB's own claims.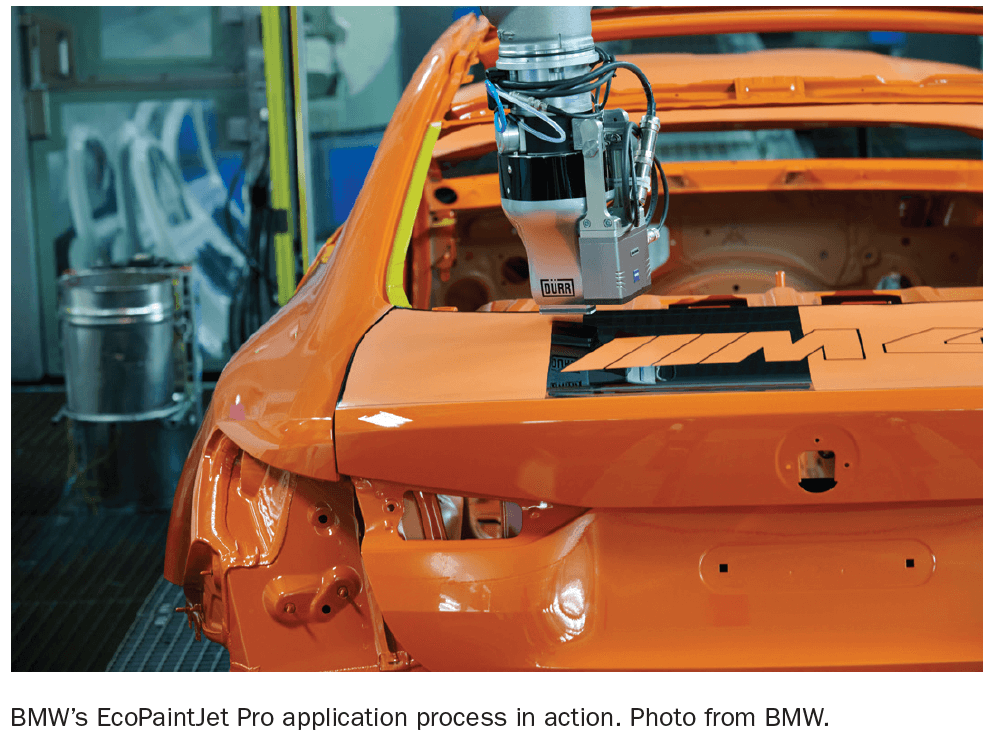 Clearly, tools are advancing. Researchers work toward new innovative methods each and every day and, while AI may be present in a lot of the tools hitting the market today, hands-on skills and collision repair expertise are still highly sought after. We're far from the days when a robot can take all your tasks from you—for now, they're only here to make our lives a little bit easier.