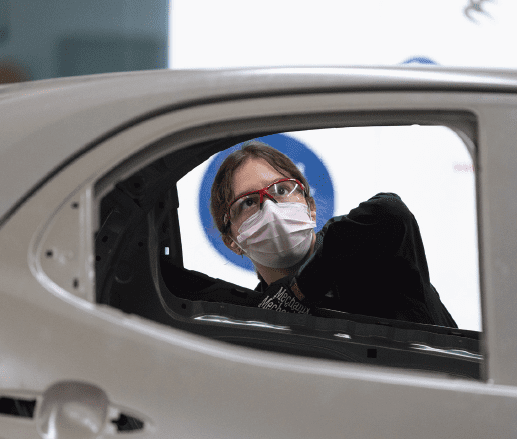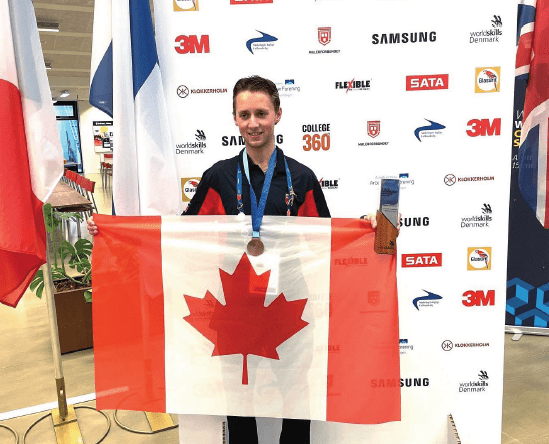 BY ALLISON ROGERS AND MAX REID
Bodyworx readers should know of Dorien Lozeau and Abigail King, the two competitors representing Canada's collision repair sector at WorldSkills 2022.
Dubbed WorldSkills Competition 2022 Special Edition, the international competition ran a little differently than in years past.
Rather than having all the trades compete at one central location, each specialty had its own event in a different global location over a three-month period. Events were held in 15 countries across Europe, Asia and North America. Read on to see how our Canadian duo performed at the international level.
DORIEN IN DENMARK
Dorien Lozeau returned with a Medallion of Excellence for his performance.
The painter based out of CSN Black Ace in St. Paul, Alta., and former Bodyworx Professional cover star, faced steep competition at this year's event. He did Canada proud and came away with some hardware for his fifth place, 712-point finish.
Northern Alberta Institute of Technology (NAIT) instructor Cecile Bukmeier first introduced Dorien to provincial skills competitions in 2019, where he placed second.
He went on to win the national car painting gold in 2021, but it wasn't a qualifying year for the global World Skills competition.
When he took to the national stage in Vancouver back in May to win another gold medal, Dorien sealed his spot to represent Canada internationally in the car painting competition. Dorien had mere months to train for the global contest but said the fact that he and his instructor, Bukmeier live in the same province; she would've been the car painting trainer for Canada no matter who won the national comp. "We were able to get in lots of training this year, considering we only had a couple of months," said Dorien.
Some other contestants had been preparing for years, he told a local news outlet. Even still, Dorien was "only a couple of points" from the top performers.
Dorien also claimed an award for sustainability; meaning, out of all competitors, he was the one to use the least amount of paint material to complete his job.
"Overall it's a good pat on the back just to make it this far and get to the world level—it's a once-in-a-lifetime opportunity."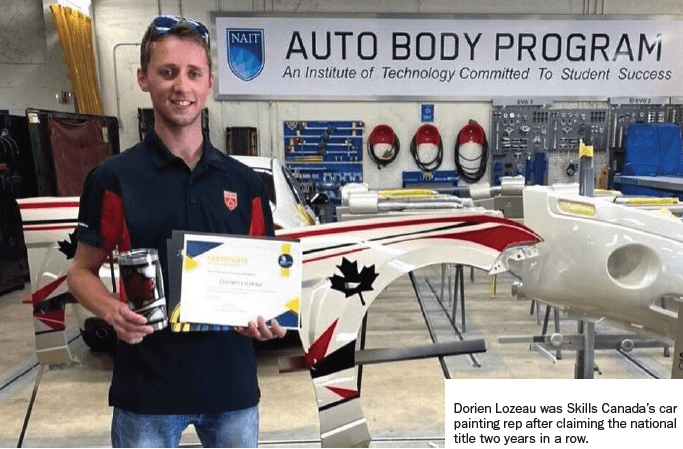 SOME APPLAUSE FOR ABIGAIL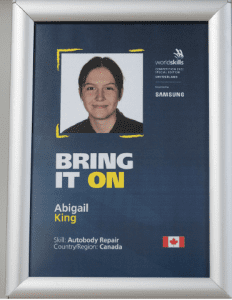 London, Ontario's Abigail King came back without a medal but told Fanshawe College's student newspaper she was still proud of herself for making it to the global stage in Switzerland.
"I did some things I've never done before, and competed against people who've been in the trade for longer than me," she explained to the Falcon.
A former student of Fanshawe's one-year auto body repair program, Abigail spent 11 months preparing for her skills competitions and won gold at Skills Canada's national event in May. "Abby displayed a natural talent for welding and sheet metal repair very early in the [auto body repair] program, so she became a perfect candidate for the competition," said James Shaw, Fanshawe's Auto Body Program Co-ordinator. "She had expressed some interest to compete early on and took any extra training as available throughout her two semesters of schooling.
Abigail also prides herself on blazing a trail for other female collision repairers. "We usually have a couple of girls enroll in our program every year," said one of her college instructors. "This year, we had ten young women enroll in the auto body repair techniques program."