Hard work and determination drive Hannah Kasiri's talents
Sometimes in life, we think we know what we want — until it is right in front of us.
Hannah Kasiri, the owner of Lucky 13 Autobody and Paint in Edmonton, Alberta, grew up anticipating a completely different life path. She nearly went to school for animal sciences and started her career at a small animal vet clinic.
After only one year, Hannah realized the career path she had embarked on just wasn't the right fit.' Shortly after leaving the clinic, Hannah ultimately discovered her true passion—auto repair and painting. "Around the same time I had left the clinic, my friend owned a small custom bodyshop and asked me to help around. I started doing prep and light bodywork and soon realized this was something I could make into a career and life," Hannah told Bodyworx Professional.
After helping her friend at his custom shop, Hannah returned to her hometown in Alberta and began working for a collision and mechanic shop. She started as a panel beater and worked prep for about six months before she stepped into the paint booth.
"The time I spent doing body and prep work helped me understand paint more and understand how to double-check my work before sending it to the booth," explained Hannah.
After two years at her first shop, Hannah moved to a production shop that had contracts with dealerships and other wholesale contracts. With far more employees and a lot more push through than her previous facility, Hannah soon found herself painting up to three cars a day in addition to her bodywork prep.
"I learned a lot about work ethic and teaching myself to be more efficient," said Hannah.
Yet it wasn't all sunshine and roses for Hannah; even through her success, she still was faced with stereotypes regarding her place in a male-dominated industry. "I have been in a lot of shops where men have mistreated me on numerous occasions. That's what pushed me to open up my shop, so that I would have my safe environment, not being bogged down and no one can take that away from me."
About a year and a half ago, Hannah decided it was time to take matters into her own hands, and opened Lucky 13 Autobody and Paint, where she serves as the head painter and body technician. The facility provides vehicle autobody restoration, custom paint services, paint repairs, rust repair, full paint restoration, and break-in repair.
"I am Lucky 13," said Hannah. "All my customers, all my contracts don't leave unless they are happy. I am humbled by the opportunity to start my own business and organically cater to every client that walks through my door. When a customer trusts me with their car, whether it be collision or custom, it gives me an incredible feeling of determination. Ultimately my goal is to give my customers everything I can give them."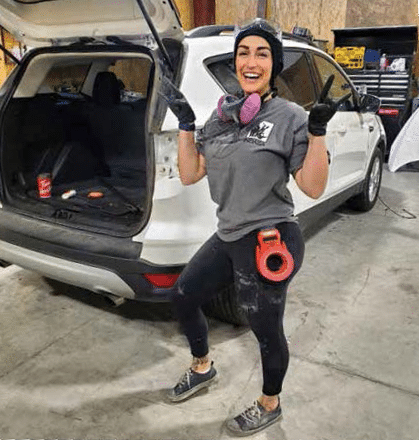 "I have been in a lot of shops where men have mistreated me on numerous occasions. That's what pushed me to open up my shop, so that I would have my safe environment, not being bogged down and no one can take that away from me." — Hannah Kasiri, owner of Lucky 13 Autobody and Paint
Every day Hannah puts her heart into her work at Lucky 13, working from morning to night and proving an inspiration not only for other women in the industry, but to anyone passionately determined to succeed in their field.
According to Hannah, her shop is different from many other bodyshops as she takes the time to ensure she's working within her customer's budget.
"I think all people should be able to afford quality bodywork. If a customer gives me a copy of what they can afford, I will work with it. If I can get away with not pulling off a bumper or spending a little less time in their vehicle, but still be able to warranty the work and ensure quality work, then I will do so," said Hannah.
"I also do a lot of smart repair and plastic welding; I try not to replace as much as possible and try to fit as much as I can into saving time and money."
While passionate about all elements of the bodywork business, Hannah holds great pride in her paintwork. She recalls two of her absolute favourite paint jobs throughout her time in the industry.
The 'Big Bertha' 1999 Mercedes Benz 500, said Hannah, was a paint job that meant a lot to her because she worked on it solo from start to finish.
"It taught me a lot and most of all to believe in yourself and the skills you have learned over the years. It took me roughly three weeks to finish but when she was finally ready for delivery, I felt proud of my work and seeing my client's face light up I knew my hard work paid off.
Her second most memorable job was a 2019 Harley Davidson Breakout. And when she first laid eyes on the bike, it looked like an "old man bike," painted a rusty root beer colour with chrome throughout and a large wind visor. She sat with the owner of the bike and eventually came up with a game plan to modernize and completely blackout the bike! "I started the teardown, sent out rims and every single chrome part from the engine to get powder coated. We bought blackout fork kits, custom fenders and loads of other add ons! This custom build took roughly 9 weeks due to coronavirus," explained Hannah. "Getting parts was a nightmare. I worked closely with Dyno West to finish this custom build. Troy the owner of Dyno West is the best of the best. It's a family-run shop and I'm so blessed to have been able to work with them on this killer build."
As Hannah gets ready to officially start her second year of business, looking into the future can be intimidating—but Hannah never stops thinking about the future of her shop. "I want to build an unstoppable team that can take Lucky 13 to the next level. I hope to build a bigger shop from the ground up and have two booths—one for custom work and one for collision with a few more bays," she said.
"I will also be working on a YouTube channel over the next few months with the channel Dent Fix to share some new products that I see changing the way I do smart repairs and to share with others new effective ways to complete jobs."
A mere decade ago, Hannah envisioned a far different career. While making a name for herself in the autobody world has not been easy, she said she wouldn't trade it for the world and encourages others to also aim for their dreams.
"Never give in to the negativity. Believe in yourself and lean on the people around you that bring you up no matter what. With all the stereotypes and negativity comes love, support and growth—it's all about what you choose to focus on."