CANADA'S FIRST GASOLINE ENGINE AUTOMOBILE
Have you ever heard of the Fossmobile?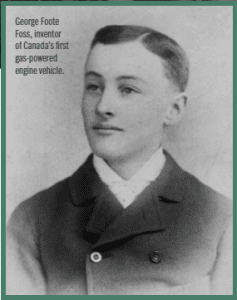 In 1897, the vehicle claimed the title of Canada's first successful gasoline- engine automobile.
"We grew up listening to my grandfather and father tell stories of the Fossmobile," Ron Foss, grandson of Fossmobile inventor George Foote Foss told Bodyworx Professional. "It was something my whole family grew up with; even my granddaughter has done a project on the topic."
When Ron was young, his grandfather received two honorary memberships, one from the vintage Automobile Club of Montreal and the other from the Antique Automobile Club of America.
Ron knew his grandfather as a great Canadian inventor. Though as he grew older, he realized few outside Sherbrooke knew the inspiring legacy of George Foss or his Fossmobile. "More Canadians should know that Henry Ford was not the first to invent the gasoline- powered automobile in Canada, it was my grandfather—George Foss."
When George began his project in 1896, he envisioned a vehicle that would transcend the industry and make driving more convenient and efficient. He first began his hobby working with boats and soon after coming back from a trip to Boston, he moved on to automobiles. He wanted to craft a gas-powered vehicle that could last longer than 20 minutes on the road. "He decided there was a better way to build a vehicle," Ron said.
"I remember him telling us the first time he had tried to sell it. A guy came down from Ottawa to Montreal to test drive it, but when he tried to start it, it kicked back and pulled over the cowling onto the ground. It was a no sale, but then my grandfather found out that the guy had a wooden leg," laughed Ron. "By 1897, he was driving around scaring children, getting stuck in the mud and getting tickets for driving on the sidewalk."
In 1902, after a year in storage, George sold the Fossmobile—the only one he ever made—for $75, and it was never seen again. Now, more than a century later, Ron has enlisted the help of automotive historians and other experts in vintage restoration for a very special project. The goal; to reverse engineer a tribute to George Foss's invention.
According to Ron, his team has found parts similar to the original tools of the time to recreate the vehicle almost exactly how it was designed in 1897. Unique items like the engine's wood cowling have been faithfully remade and utilizing the same style of paint that "old buggies and carriages" would have been painted with, said Ron.
They even sourced a period engine similar to the one that gave the Fossmobile a whopping top speed of 24km/h.
"COVID has blocked us a couple of times, we've lost a few months over the year because of the lockdowns. There are always things that come up and take even longer to make. We are at a stage now where all the parts that we need have been found, and everything else needs to be fabricated.
"I would think that by April, May the tribute should be done," said Ron.
To fund the endeavour, Ron launched a GoFundMe last year, where they have raised just over $16,500, with a goal of $35,000. Ron is hoping to gain national attention for his grandfather's invention and have the car ready to ride for its 125th anniversary, next year. "When you talk to the average Canadian, many don't know who successfully built the first gasoline-powered car in Canada and that it was done in Sherbrooke, Quebec by my grandfather," said Ron. "We're going to change that."
One of the parts acquired by Ron, George's grandson, who will be recreating the Fossmobile in an asclose- as-possible replica.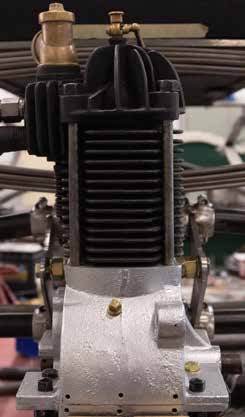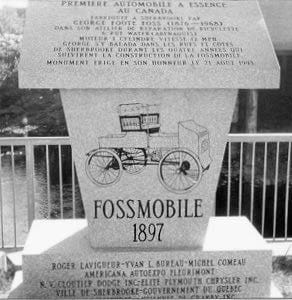 While the original Fossmobile has long since vanished, a monument exists for it in Sherbrooke, Quebec.
The 1897 Fossmobile in all its glory.