BEHOLD THE BETA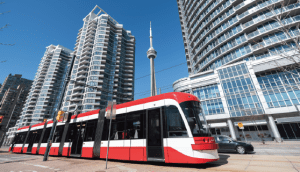 Tesla's "Full Self-Driving" beta has officially launched in Canada amid a wave of social media hype and some unforeseen hiccups. With the 2022.4.5.20 software update, Canada becomes the first country outside of the U.S. to join the beta. The excitement of the launch was dampened for Toronto-area drivers who found self-driving service to be unavailable in much of the city's downtown core. Tesla CEO Elon Musk addressed the limitation via Twitter, saying "Toronto streetcars are not yet handled well by FSD" and some areas where steetcars are prevalent have been geofenced off. According to Drive Tesla Canada, the geofence limiting the software's functionality ends somewhere north of Bloor Street and Danforth Avenue.
THREE'S COMPANY
Subaru is giving drivers the ability to opt into additional safety features, announcing that the 2023 Outback will include a forwardfacing camera in the model's top trim. The top-level Touring trim of the 2023 Outback will feature a wide-angle mono camera in addition to the dual-camera EyeSight camera system that comes standard. Subaru says the camera will expand the vehicle's field of view to help the system recognize pedestrians and bicyclists sooner. The company also revealed that automatic emergency steering will be included on all Outbacks equipped with blind-spot detection, lane-change assist and rear cross-traffic alert.
CYBER CHEMISTRY
AkzoNobel has partnered with Microsoft to utilize the tech company's quantum computing capabilities to run simulations on chemical reactions. The partnership will see scientists from both companies collaborating to develop a "virtual laboratory" where experiments can be conducted via Microsoft's Azure quantum computing service. Access to this technology will help overcome many of the practical boundaries associated with traditional laboratory methods, such as availability of raw materials, physical equipment capacity constraints, toxicity and environmental conditions, according to AkzoNobel. "Microsoft's Azure Quantum system offers incredible opportunities for us to take our research into an entirely new digital realm and speed up the development of new novel catalysts and chemical reactions," said AkzoNobel's technology director of research and design, Pim Koeckhoven.
TO THE LEFT NOW Y'ALL
Ford is moving into the omnidirectional driving space following the recent approval of a new patent called "Crawl Operations for Four- Wheel Steering Vehicle." Ford's crawling design, which is currently being tested on F-series pickup trucks, allows a vehicle's wheels to turn on the same axle opposite to one another through electric actuators and motors. The idea behind the feature is to allow the driver to use their front wheels to crawl out from hazards like mud, sand and snowbanks.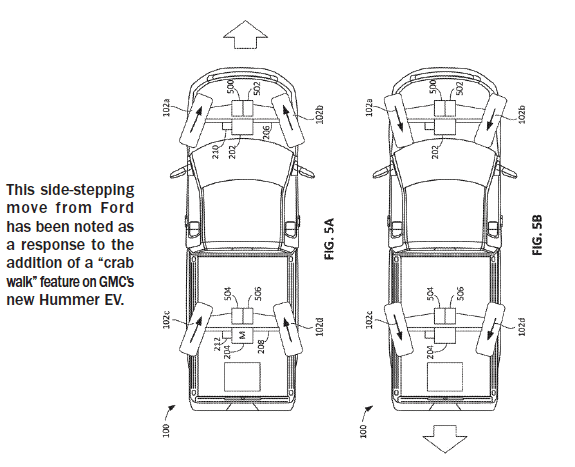 PELLUCID PILLARS
General Motors has been granted a patent for a see-through A-pillar to potentially be used on the automaker's larger vehicles. The design revolves around a fibre-reinforced composite A-pillar that includes openings filled with a transparent resin or composite that is "designed to maximize the occupant's field of view, especially on left-hand turns, within structural constraints," according to GM's patent application. Resistance wires would be embedded in the transparent resin or composite to regulate temperature. The challenge for GM was to increase blindspot visibility for drivers "without sacrificing the structural performance of the vehicle frame and negatively impacting passenger safety," as would happen if the A-pillar was slimmed down in width.