MOBILE MODULES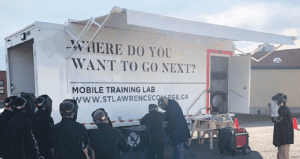 Secondary students in the Ottawa area can expect the world of skilled trades to be rolling up to their school's doors sometime soon, as the St. Lawrence College Mobile Skills Training Lab makes its way through the area. The lab has been making its rounds through the Upper Canada District School Board (UCDSB) as part of an 11-week tour that kicked off on April 4. The lab is equipped to offer learning experiences from across the industries of carpentry, welding, electrical, fitness, nutrition and culinary.
FIND SUCCESS IN STRATHROY
The skilled trades will be getting a new home base in southwest Ontario in the form of a $5.7 million training centre to be built in the community of Strathroy. The centre will train students from various levels of education, with a primary focus on producing welders, metal fabricators and industrial mechanical millwrights. The facilities are expected to be open to apprentices, as well as secondary and elementary school students through the Ontario Youth Apprenticeship Program. The government said this facility will help fill the more than 2,000 skilled trades-related positions posted online in the London Census Metropolitan Area over the last six months. A timeline for when the centre will be open has not yet been announced.
MORE TOOLS FOR MANITOBAN SCHOOLS
Manitoba has tabbed more than $1.4 million for schools to update vocation learning equipment and improve hands-on training, according to Education Minister Wayne Ewasko. Thirty-five Manitoba schools will receive one-time grants aimed to improve various technical, vocational and industrial arts programs, which include courses teaching techniques in automotive repair. Kildonan-East Collegiate offers 11 vocational programs to its students and has managed to secure the funding to purchase an electric vehicle kit for hands-on science, electric and automotive training. Principal Darwin MacFarlane told Manitoba's The Record that he hopes students will be excited about the opportunity to build and take apart an electric vehicle. "The infrastructure in Manitoba for electric vehicles isn't there yet, but it's coming," he said. "We really wanted our students to have that opportunity.
THE EV CURE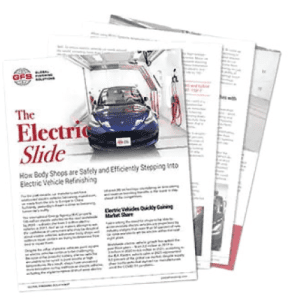 Global Finishing Solutions has released a free guide that provides the basic dos and don'ts for refinishers to follow when working alongside electric vehicles. In a new guide called "The Electric Slide," GFS says it has laid out "several proven curing methods" that collision repair facilities have adopted to work on EVs. The company says this guide will answer the question of why electric vehicles are unable to be cured in a normal paint booth cure cycle and how a refinisher is meant to treat the body of an EV.