CRASH OF THE TITANS
An exciting new autobody competition is set to kick off in September in Port Coquitlam, B.C. The inaugural Crash of the Titans Collision Repair Competition is set to take place at Kirmac Collision in Port Coquitlam on September 23. Organizers announced that registrations are now open for competitors to throw their name in the ring and earn a piece of the $20,000 in cash prizes up for grabs. Competitors in the autobody category will take on challenges in the fields of plastic repair, sheet metal repair, welding, and frame measuring, event organizers told Bodyworx via email. Refinishers, on the other hand, will be judged on masking, paint prep, painting, and polishing. Alongside Kirmac Collision, PPG, 3M, the Dilawri auto group, Lordco Auto Parts and the West Coast Auto Group are also listed as headlining sponsors for this upcoming event.
HIT THE ROAD
If you thought one Trades and Tech truck was a good way to spread the news about Ontario's skilled trades industry, the government says it is tripling down and building three more trucks to help bolster interest in the trades. First unveiled at an April 2022 event at Fix Network's Milton, Ontario, training centre, Skills Ontario's Trades and Tech truck is a mobile classroom that is equipped to provide students the ability to interact with various skilled trades, including welding, auto painting, electrical systems, tire and brake work and much more. The organization's first truck made the rounds to more than 40,000 students across more than 50 events last year.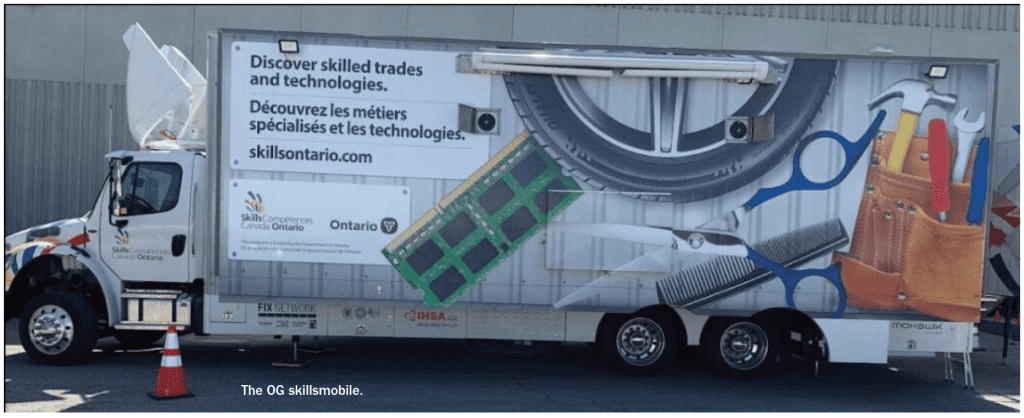 FIELD TRIP
Tropicana Community Services brought its class of 17 pre-apprenticeship auto body students to the Canadian Welding Bureau's newly opened Canadian Collision Repair Academy, which the organization created in collaboration with Volkswagen Group Canada and several suppliers, distributors and industry supporters. Students started the day with a brief presentation before getting a tour of the CCRA bodyshop, directed by the CWB's collision repair trainer Jean-Marc Julien. They later broke out into groups to perform fit testing with 3M's reps; talk about estimating with CARSTAR and get hands-on in the bodyshop with BMW. After a pizza lunch, Skilled Trades Ontario taught the students all about certification.