DO A GOOD DEED
The Women's Industry Network (WIN) has kicked off a "Pay-It-Forward" campaign to allow current WIN members and non-members to purchase and gift a full one-year WIN membership for a new member. By participating, donors can designate the yearly gift to go to a recipient of their choice or donate to the "WIN Pick" membership fund and the organization will select a recipient in need.
To participate in the Pay-It-Forward campaign, visit thewomensindustrynetwork. site-ym.com/page/Payitforward and either designate the yearly gift to the recipient of your choice or donate to the 'WIN Pick' membership fund.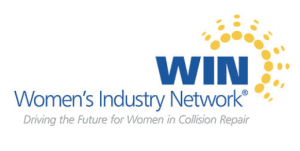 STRENGTHENING THE BOND
The CWB Group is excited to announce the launch of a new collision repair welding program it says it designed "to provide the highest quality repair, utilize best practices, and ensure that vehicles are safely and adequately repaired." This new program from the Canadian Welding Bureau (CWB) intends to bring the latest automotive welding procedures straight to techs in their shops by allowing welders to take part in the course from their own facility and using their own equipment.
THE 411 ON 410N
It's a secret to none that Canada's automotive aftermarket is in the drawls of a skills shortage—and painters are no exception. In a July survey issued by Collision Repair magazine, more than 65 percent of Canadian collision owners found themselves lacking a qualified workforce in 2020. Thankfully, SATA Canada is here to help in the painting department. The company now offers an eight-week course in Automotive Refinishing (Trade Code 410N) from its Vaughan, Ontario training centre. The course, designed for anyone and everyone interested in a future in automotive painting, is delivered over eight weeks of five days a week of in-class learning at SATA Canada's training centre in Vaughan, Ontario. Following completion of the course, graduates will receive their Ontario 410N certification—which is the equivalent of the Automotive Refinishing Technician Red Seal certs. Students must end the course with a grade of 70 percent or higher in both the practical and theory segments. For registered Ontario apprentices, the government will cover the cost required for that apprentice to enroll in SATA Canada's 410N course. Over eight weeks, SATA's students will learn all the comprehensive automotive painting knowledge required to work in a collision centre setting. From safety, respirator and compressor awareness, detailing, prep work, paint repair and finally, refinishing, John Turner, general manager of SATA Canada, says completion of 410N will equip graduates with all the skills necessary to succeed in automotive painting, and more. To start an Ontario apprenticeship program, apply at: https://www.ontario.ca/page/start-apprenticeship#section-9.
For more information on SATA'S 410N offering, please contact SATA Canada directly at contact@sata.ca or by phone at 905-660-1101.
FOR THE YOUTH
During a mid-June virtual panel, Canadian Deputy Prime Minister Chrystia Freeland sat down with NAIT instructor and Bodyworx columnist Cecile Bukmeier, along with other youth representatives to discuss COVID-19's impact on young people. Bukmeier brought forward her concerns about post-secondary students' ability to find jobs amid the pandemic, describing the increasing levels of anxiety students feel about their futures. "It's concerning that even though their job positions may be deemed essential, many were still laid off and left them feeling like they could not move forward with their career," Bukmeier said. She also asked Freeland about government resources students can access following post-secondary education. "[The government is working to be] sure that student loans are not a burden on building your life," Freeland said according to The Gateway. "That is why one of the things I personally pushed for in the budget is you don't have to pay your student loans off until you are making $40,000 at least, and the cap at repayment is 10 percent of your income."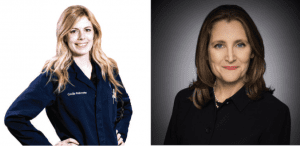 FORD'S FAILURE
Since 2018, the government of Ontario has not enforced its law requiring skilled tradespeople to maintain the mandatory credentials needed to do their job, CBC News reported in late July. According to the report, for three years now, the Ontario government has allegedly failed to make sure tradespeople are licensed to be tradespeople. And this lack of enforcement all started the day Premier Doug Ford assumed office, said CBC. Prior to Ford's election, the Ontario College of Trades (OCOT) oversaw ensuring that people working in any of Ontario's 23 compulsory trades—which includes auto body repair—had the necessary certifications. And every year, college officers visited thousands of places of work to ensure workers were certified. In 2018 Ford's government passed legislation to "wind down the OCOT," in order to "reduce unnecessary regulatory burdens," says a 2018 government release. Even in this winding down period, the OCOT was still expected to enforce certification rules for skilled trade workers. Yet, according to CBC News, "there is little evidence" the OCOT has carried out that duty for the past three years. Between 2015 and 2016 the college found more 4,200 working without the compulsory certification for their licensed trade. However, there has been zero notice of contravention posted by the OCOT since June 28, 2018 — the day after the Ford government officially took office. Additionally, there have been no Provincial Offences Act convictions posted on their website since July 30, 2018. Government officials told CBC that enforcement did in fact cease over the past three years. "Since we formed government, OCOT inspectors have taken an educational role," Ryan Whealy, acting press secretary for Monte McNaughton, the minister of labour, training and skills development said in a statement to CBC.