EDMONTON EDUCATION
Alberta Motor Transport Association (AMTA) hosted the grand opening of its state-of-the-art safety training facility located at the Edmonton International Airport, Airport City site. The facility will serve as a commercial transportation hub for safety training development and delivery, research and technology innovations, and will help in strengthening education for commercial drivers across the province. In addition to classrooms designed for driver education, the facility will also feature a five-acre training track manufactured to provide drivers with comprehensive real-life road experience and vehicle-use training. Simulators will also be available for drivers to experience different road and travel challenges. The facility and training track are currently on seven acres of EIA land forming part of Airport City. AMTA has reserved 13 additional adjacent acres with plans to expand the facility as the association continues to grow.
SAIT STUDENTS SATISFIED
The Southern Alberta Institute of Technology has partnered with AirPro Diagnostics to provide students with pre and post-scans and calibration training. The AirPro Diagnostics tool is designed to meet this unique requirement in a bodyshop. The autobody technician can quickly and easily hook up the AirPro tool, request an assisted scan—which is performed remotely by trained automotive service technicians utilizing OEM-licensed software—and have a full report with recommended repair suggestions in a very short time.
AIA'S ACADEMIC AWARDS
The Automotive Industries Association of Canada (AIA) announced the recipients of the 2018 Arthur Paulin Automotive Aftermarket Scholarship: Jordan Portelance – Georgian College, France-Line Cormier – CCNB – Bathurst, Olivier Kengnie – CCNB – Bathurst, Eric James Elvidge – Georgian College, Jessica Cowan – Georgian College, Joseph Atherley – Centennial College, and Andrew Faul – University of British Columbia. The program, which was established by members of the AIA, provides financial assistance to deserving students pursuing further education in the automotive field. The primary goals of the scholarships are to promote professionalism within the automotive aftermarket, create awareness of the aftermarket industry, attract new people to the industry and advance the state of knowledge within the industry.
PAYING FOR TRAINING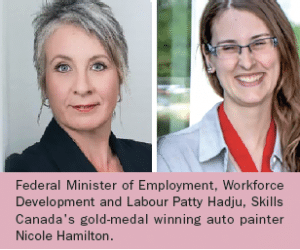 Federal Minister of Employment, Workforce Development and Labour Patty Hadju has announced a new apprenticeship incentive grant for women in autobody, collision damage repair, auto painting and auto glass repair technician programs. This new Apprenticeship Incentive Grant for Women provides $3,000 per year or level, up to a maximum amount of $6,000, to registered apprentices who have successfully completed their first or second year (level). While statistics from across the country are unavailable, in Ontario, there are 69 female licensed or apprenticed members of these trades compared with 5,338 males.
TRAINING THE NEXT GENERATION
When former Discount & Car Rental manager, Shawaz Rumzi, asked his three daughters what they wanted to do when they grow up, his two eight-year-old daughters, Marissa, and Aleena Rumzi said a dentist and a librarian. His five-year-old daughter Rielle said, "I want to be an automotive painter."
The doting father asked his friend, Jack Martino, co-owner of CSN Martino Brothers, for assistance in giving Rielle and her two eight-year-old sisters the opportunity to try their hands at the trade.
With some help from AkzoNobel paint jobber Dan Treschak and Centennial College, the girls were equipped with the proper suits and safety gear as well as paint that contained corn starch, food colouring and water for the girls to practice with.
The shop's autobody apprentice, 20-yearold Shanyce Neale, acted as the sister's team leader. She showed them the ropes, and practiced painting on some of the shops scrap fenders.
The shop's autobody apprentice, 19-yearold Shanyce Neale, was delighted to hear of Rielle's interest in the industry at such an early age. Acting as the team lead, she showed the girls the ropes and helped them paint some of the shop's scrap fenders. Check out the next edition of Bodyworx Professional for our full breakdown of Neale's lesson and her advice for other aspiring auto painters.