BY MAX REID
More than 500 of the nation's most talented young tradespeople were in Vancouver or tuned in at home over several days in late May for the return of the Skills Canada National Competition.
This year's partial return to usual event structure saw medals awarded across a mix of 35 live and virtual skilled trade competitions, including auto body repair and automotive refinishing, as well as other skill-based careers like hairstyling, photography, electronics and graphic design.
The in-person portion of the competition took over the Vancouver Convention Centre from May 26 to 27 and called on participants from across the experience levels of post-secondary and Team Canada qualifiers. The secondary school level of competition was held virtually and drew in more than 200 skilled youth to take part in 45 competitions.
Bodyworx Professional managed to get in touch with two gold medal winners, and working collision repair technicians, who will go on to represent Team Canada at the upcoming WorldSkills Competition 2022 Special Edition.
First up was Abigail King, a 20-year-old auto body repair student currently splitting her time between studies at Fanshawe College in London, Ontario. and work at a local TD auto insurance centre.
Bodyworx Professional: In May, you competed at the Skills Canada National competition in Vancouver in the post-secondary auto body repair category. How did it go?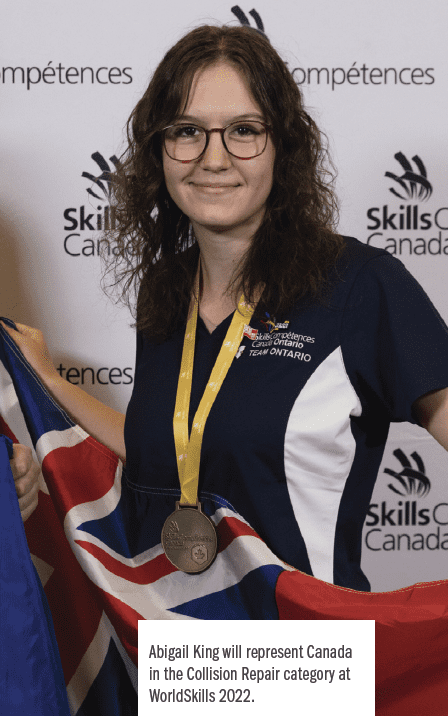 Abigail King: I placed first. It was great. I was competing against two other people, one from Alberta and another from Quebec. The first day I repaired a large aluminum dent on a fender, a small aluminum dent on a hood. Then I had to do a bumper repair that was about a two-inch cut. I also did some measuring; we used a tram gauge to measure the top and bottom points, and then we checked those points with the Car-o-Liner system. The second day I did a lower A-pillar replacement which went well.
BWX: What did you take away from the competition? Did you meet any interesting people?
AK: There were quite a few reps there from Car-o-Liner and Snap-on who were good to talk to. One Snap-on rep was a former competitor— he competed on both the painting and collision side of the events, which was interesting to hear about.
BWX: What made you interested in competing in Skills Canada?
AK: I was in the [auto body repair] techniques program at Fanshawe College. Usually they choose apprentices to compete, but they didn't have enough this year, so they were keeping a close eye on all the students in the technique's classroom, and I just so happened to be chosen. It was cool.
BWX: Did you face any unexpected challenges at the competition?
AK: The A-pillar replacement. We never got around to doing that at school. I've only drilled out the spot welds at school, so I went into that completely blind. I had never looked at an OEM spec sheet, nothing like that.
Same with that small aluminum dent on the hood; we thought that I would have access to the underside to use a hammer and dolly, but they changed that, so we had to use the aluminum ProSpot system, which I have also never used before.
BWX: How did you deal with using equipment you had never worked with before?
AK: It wasn't as bad as you might think. The technical chairs went through it thoroughly with us on how to use everything. They did one-on-one demonstrations and if you were using the equipment wrong, they would correct you.
BWX: What are you ultimately hoping to get out of the experience of competing?
AK: I get kind of nervous when people watch me do my thing, so I'm hoping this will get me more used to that. It's also a good networking experience to meet all these new people and seeing their techniques, because different places have different ways of doing things, so I think that will be neat to see.
BWX: Do you have a message for any other young people who may be considering a career in the auto body trades?
AK: I would say just go for it. I came from pre-health sciences. I took that before getting into the auto body techniques course at Fanshawe and I love it. I didn't enjoy the health science route, but the teachers have been fantastic, and the learning just never stops. Everything is always changing in the automotive industry, so just go for it, I say.
BWX: What got you interested in the trades?
AK: I just figured I didn't want to be stuck doing a job where everything is the same constantly. I like having a job where it's like, "Oh hey, I'm doing this today," and then something completely different tomorrow.

Next, we had a call with two-time gold medal-winning automotive refinisher, former Bodyworx Professional cover star and current painter at Calgary's CSN Black Ace, 22-year-old Dorien Lozeau.
BWX: You recently competed at this year's Skills Canada National Competition where you won a gold medal in car painting and have since advanced to the WorldSkills Competition. Could you talk a little bit about how the Skills Canada competition went?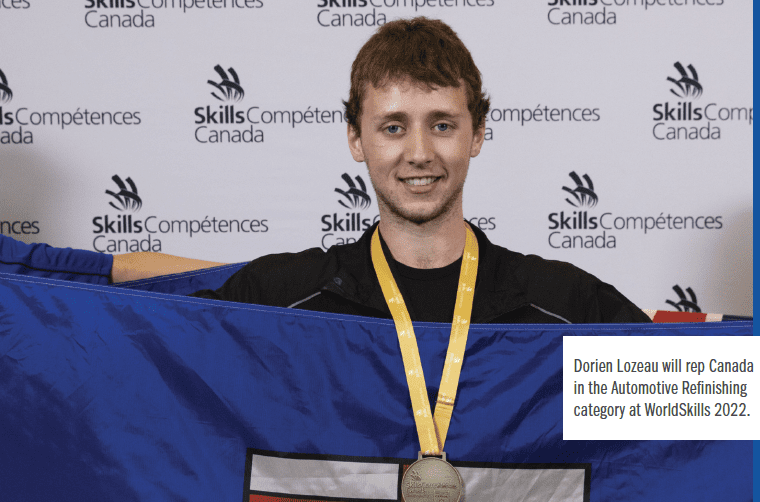 Dorien Lozeau: It went well this year, being back in person. Last year they had to do a virtual competition, so it was nice to get to go out to Vancouver for the nationals and meet a bunch of people. It was awesome.
BWX: What was involved in your portion of the competition?
DL: In the auto painting category that I was in, we had to repair a plastic bumper and paint some custom graphics on it, all in a limited period of time. We also had to remove some defects from a hood that was already painted. It was full of dust nibs and runs, so we had to remove the defects and cut and polish the hood, then apply some paint protection film to the front end. There was also a little bit of colour tinting and colour evaluation and stuff like that.
BWX: Skills Canada judges are known to test their competitors with some new technology they must learn on the day. Was there anything at this year's competition that took you by surprise?
DL: They do surprise you sometimes, but I felt pretty prepared this year. At this point, there isn't much I haven't done before, so when a problem comes up, I just work through it. It all went well.
BWX: What was it like being able to share tips and insights with tradespeople from across Canada?
DL: It was cool having a bunch of tradespeople from all over Canada. We all kind of share a similar perspective on the trades; that being, work hard, play hard.
BWX: How have your competitive successes been received at home and at CSN Black Ace?
DL: Nearly everywhere I went after I won someone would compliment me on it, so it was cool. There were signs all over town about it.
BWX: Do you have a message you want to send to any other young people who may be considering a career in the trades?
DL: My message for anyone thinking of getting into the trade is to take your time and always be planning two steps ahead. Quality comes first and speed comes with time.
BWX: With your win at the national competition, what are you doing to prepare now that you have advanced to compete on the world stage?
DL: I've been doing lots of training. We hosted a training event at NAIT (Northern Alberta Institute of Technology) about two or three weeks ago. We invited all the competitors from around the world and about six were able to make it out. We had a mini competition that helped us meet some of the people. There were people from Australia, Germany, the UK, the UAE and elsewhere. It was cool to meet those guys. A few of them couldn't speak English, but we could all paint, so it was cool.
Germany is also hosting a training event in September in Neuss. We're going to that one ahead of the start of the event of the world, so that should be a cool experience as well.
Keep an eye out for coverage of how these talented up-and-comers do on the world stage this fall. The WorldSkills Competition 2022 Special Edition is set to take place, both virtually and live, across 15 countries and 65 competitions, from September 7 to November 26.