LAST RIDE
Breakups can be ugly; you can spend years together, form a bond that you think is unbreakable—and then next thing you know you are upside-down in a ditch. This is the story of a man and his Corvette. Spencer Everette of Greenville, N.C. was supposed to sell his 2020 Corvette Stingray the next day. This was supposed to be his last hurrah with the sportscar to which he had dedicated so much of himself. Everette pulled onto Hwy. 11 and "gunned it." Overcome by long-suppressed emotions, regret and a severe loss of traction with the road, the couple found themselves in a literal rut—and upside down. Everette wasn't physically hurt in the crash. North Carolina Highway Patrol charged Everette with reckless driving and advised him to spend some time learning to love himself.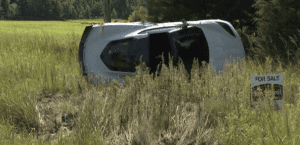 THE GRANDEST OPENING
Any business owner looks back on the day they opened their doors as one of the proudest days of their career. Festivities stationed around the building; friends, family and congratulations filtering through–not to mention the feeling of extreme pride. If they set the stage right, they'll feel like they've won the lottery. But did you literally win the lottery? Brian Woodle and his wife did. The same day the couple opened their auto repair business in Callahan, Florida, Woodle purchased his $5 Gold Rush Supreme scratch-off ticket from a Circle K. He won US$1 million. "It's always been my dream to own my own repair shop," said Woodle in a news release issued by Florida Lottery. "At the end of our first day, I stopped by Circle K to get a few things and picked up a lottery ticket. Just like that, we won a million bucks!" As for Woodle's business, he has no plans to close shop.
CHEERS…OR NOT
Some spills are objectively worse than others. Red wine on a white carpet or bleach on a black tee are at the top of the not-so-good list, but beer spillage on a highway seems like a dream—maybe not for the fallen beverages, though. Beer lovers' wet dream came to life in late August, when a truck traveling eastbound on Lougheed Highway close to Coquitlam B.C., ripped open and dumped thousands of cans of Budweiser onto the road. "My mom and I just thought it was funny, couldn't believe our eyes," Brianagh O'Driscoll, a Port Coquitlam resident who witnessed the clean-up told the Times Colonist. Police said the incident occured because the trailer separated from the truck, which caused the beers to fall out when the vehicle came to halt.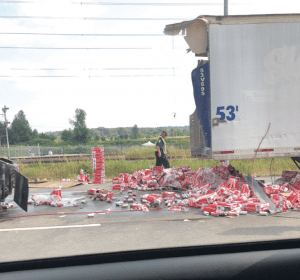 UNEXPECTED CO-PILOT
Like religion, politics and spiders present a mixed bag of opinions, but one driver in north Vancouver decided to go and just flip out about it. That's not a joke; a driver in north Vancouver encountered an unexpected eight-legged passenger in her car on Monday and opted for immediate evacuation of the situation, which is to say, she panicked and flipped her Toyota Corolla into someone's front yard. The incident occurred around 1 p.m. on East Braemar Road in north Vancouver. The driver avoided serious injury in the crash, but the homeowner said that this isn't the first time her yard has hosted a car crash, but that it was "fortunate that nobody was walking on the sidewalk, or working in our garden, or driveway," she told local media.