ST. CLAUDE'S DORRIAN SELLEY WINS GOLD MEDALS FOR A SIDE GIG
BY MAX REID
When something feels as natural to you as bodywork does to Dorrian Selley, it only makes sense that you would be among the best in your field.
Whether it be a dent repair, a weld or a paint job, the 20-year-old, self-confessed "wannabe farm boy" can deliver results with the best of them. Dorrian recently competed at the Skills Canada national competition in Vancouver where he came home with a gold medal in auto body repair, in the post-secondary category.
Bodyworx Professional caught up with the multi-talented Manitoban over the phone for a chat about what makes this young champ tick. These days, Dorrian is a technician at his hometown shop of St. Claude Auto Body, situated in the eponymous small town of a little more than 600 people, about an hour from the border with North Dakota.
As a kid who grew up across the road from a farm, with an agricultural engineer as a father, Dorrian was raised in an environment not just steeped in the automotive, but with a healthy respect for machines and what makes them run. As such, he knew at a young age that if cars were a field he ever wanted to excel in, there was no time like the present to start putting in the work. "I started my first job at 11 years old as a car detailer. I was working for a friend of my dad's, but I didn't get paid in cash—I got paid in car parts," said Dorrian, already with hefty automotive ambitions in mind before even reaching high school.
"I bought my first car when I was 13 years old; it was a '97 Ford Ranger. It was purple. Between my dad and my boss at the car detailing place, we put a whole new motor in it, replaced a few parts and went and got it safety-ed. By the time I was 15 and a half, it was good to go."
For many young technicians, it's with the first major job completed that the bodywork bug really starts to take over its host, as Dorrian was motivated to keep honing his craft throughout high school. "About midway through high school I got a job at a private bodyshop. They did all sorts of custom accessories, bed liners, some paint and whatnot," he said. "I worked there for almost five years, all the way through high school."
The relationship he formed with his boss at the private shop further cemented Dorrian's interest in learning all there was to learn about building and repairing cars.
With high school over and a decision about the future to be made, "He then suggested that I apply to pre-employment at Red River [College] for body work," said Dorrian.
And from that point on, Dorrian's professional life as an auto body technician and painter had officially begun, as he would spend the next several years balancing his time between his studies at Red River College, eventually being hired on as a painter at St. Claude Auto Body—later being forced to install fencing for his living while the initial COVID-19 lockdown put a halt to his workflow.
Dorrian really couldn't say it enough times how grateful he is to his boss Norm, not only for keeping a tab on him and calling him back to the shop when work returned, but for the innumerable learning experiences working at St. Claude Auto Body has provided for him.
"I am very thankful for the opportunities I get, because a lot of the guys at my level wouldn't get those opportunities," said Dorrian.
"After working at that private shop, I learned that I really love welding. It's one of my favourite things to do. But I've also developed a taste for painting."
— Dorrian Selley painter, St. Claude Auto Body / Gold Medallist, Skills Canada National Competition 2022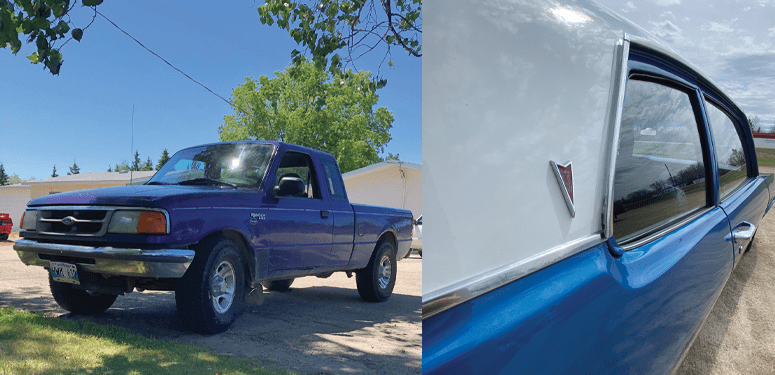 "Our shop is very, very intuitive. We have monthly training nights where we go over new technology or new processes in the shop. [Norm] makes sure that, no matter what the cost is, we are always spending money on getting the newest procedures and the newest programs. So, school did very much prepare me, but if there was anything I was lacking, the shop would just pick that up from there."
Even just the opportunity to watch and learn from a Red Seal tech as they do their work is a gift, according to Dorrian. He seems to possess within him a near-constant desire to deliver as perfect a product as he can. He says that is what drives him to always be learning. "Right now, I'm a painter. What makes me want to paint is the idea of seeking perfection. Cars are something that I can turn into something perfect," said Dorrian. "I go into the shop and I'm like, 'Today I'm going to make this paint job as good as I can,' or make my bodywork as straight as I can." Dorrian recognizes that the line between good and good enough can get tragically blurry when working in a busy shop—when he is doing your repairs, however, you know the result you are getting will be great.
"Let's talk about when you're masking something," he explains. "When you're painting a panel, you're going to have to mask it off. When you mask it off, you'll get a film build on the edge, but I want to get that film build to the point where you almost can't even tell it's there. My goal is that I can paint the panel, and you won't even be able to tell that I painted it."
Dorrian seems to compete with a higher bar than most other technicians and painters his age. Where other young tradespeople are concerned with simply getting the job done correctly, Dorrian's aim is already pointed far beyond to efficiency and non-invasiveness. All that is not to say he is never satisfied, though—he's completed more than a few jobs for which he holds a certain amount of pride. "I did my first complete paint job back in April. It was a 1973 Pontiac Ventura two-tone hardtop. White on top and a Mazda 12R metallic blue on the bottom and it looked good. That is probably one of the jobs I'm most proud of," said Dorrian.
When he wants some time away from the noise and mayhem of the shop floor, Dorrian can oftentimes be found on the banks of Lake Winnipeg, engaging in another hobby that he also turns out to be quite good at—fishing. "My brother and I are really close, so we started a YouTube channel called Catch N' Selley. We joined the Manitoba Bass Association and entered some tournaments last year," said Dorrian
"The first tournament was a fluke and didn't pan out for us, but a majority of the tournaments we were in last year we were among the top three." When asked for the secret to his fishing success, the tip Dorrian gave could just as easily be applied to the skillset required of the modern collision repairer. Dorrian said, "Be diverse. You've got to learn what the fish want."