AIA YEARLY REVIEW
As the year winds down, Automotive Industries Association of Canada (AIA) has opened its Outlook Study 2022 to AIA members. Findings show that despite strong aftermarket recovery in 2021, overall economic output is still below pre-pandemic levels, though AIA predicts that the sector will recover by the end of 2022. When it comes to labour, "employment has suffered from reduced demand in 2020, but has rebounded in 2021 and is the path to recoup all employment loss in 2022." As far as consumer-focused trends are concerned, light trucks continue to replace passenger cars in terms of driver demand, despite inflation and the pandemic. AIA notes that kilometres driven have returned to pre-2020, but heightened gas prices have not been fully accounted for and may lead to a dip in non-essential travel. The association predicts exponential growth in the electric vehicle sector, projecting that nearly half of total vehicle registrations in 2028 will be electric vehicles.
THE POWER OF PEOPLE
The automotive aftermarket appears to be leading among the many other industries seeking out highly in-demand skilled trades workers, as the latest employment report from DesRosiers Automotive Consultants Inc. (DAC) shows that employment in the sector is up 4.2 percent since June 2021. "The aftermarket especially continues to show strength, with employment count increases for both repair facilities and parts stores," said the managing partner of DAC, Andrew King. Auto dealers and repair facilities now boast total workforces of more than 150,000 and 111,000 employees respectively, according to DAC's research—figures far surpassing those of other industry sub-sectors. DAC said that in the year between June 2021 and 2022, the Canadian auto industry's workforce expanded from 651,100 to 667,5000 employees.
TO SCALE
Dealerships beat out the aftermarket in revenue this year, according to J.D. Power's 2022 Canada Customer Service Index, which shows that dealer repairs captured more than half of the industry revenue from competition. The study found that dealership-based service centres accounted for 47 percent of all service visits and captured 58 percent of industry revenue this year, reversing the market share gains of aftermarket shops reported in 2021. The average per-visit spend for dealership customers in 2022 is $394. For aftermarket visits, the average cost sits at $247–nearly $150 cheaper than the dealership.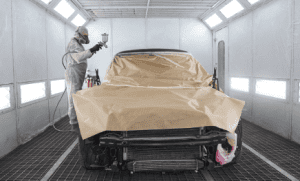 Customers appear to have equal faith in the quality of both dealership and aftermarket work. The percentage of aftermarket customers who said all service work was completed right the first time was 95 percent in 2022; down two percent from 2021. The dealership segment reported 94 percent of customers citing service completion upon first visit; like the pre-pandemic levels of 2019.
PEOPLE AND POLICY
The Automotive Industries Association of Canada (AIA) and a team of 20 associates across Canada were in parliament on October 18, bringing the right to repair issue to Ottawa. The association's message was clear: "Give Canadian consumers a choice when it comes to auto repair." AIA Canada was supported by executives from numerous automotive companies operating in Canada, including representatives from collision repair banners. Twenty-five MPs arrived for an all-party panel discussion, before association members broke off to meet one-on-one with local riding representatives to discuss the specifics of how consumers can attain greater choice on a community level.
This call-to-action extends to every single Canadian for AIA Canada, and as such, the association is also asking for individuals to reach out to their local MPs and insist that the right to repair be among their chief priorities.