DON'T PASS ME BY
Transportation officials in British Columbia have been left confused by what appears to be an unexplained increase in the number of trucks colliding with highway overpasses. Even Dave Early, CEO of the BC trucking Association can't explain it. "We don't know what's going on," said Earle. "Obviously something's not going well." There have been four collisions wherein trucks have collided with highway overpasses—all reported since the beginning of June 2022. Each has resulted in serious damage and the shutdown of major transportation routes within the Vancouver area. Specific incidents include a flatbed pulling an excavator hitting an overpass in Surrey on Highway 1, as well as a transport truck on Highway 99 hitting an overpass, which closed the road for nearly 18 hours in Richmond. Another transport hauling a cherry-picker caused significant traffic issues after hitting a 4.46-metre overpass on Highway 1 as well. These are just a few of the recent crashes involving overpasses and trucks, with the latter incident representing the eighth collision in the last year.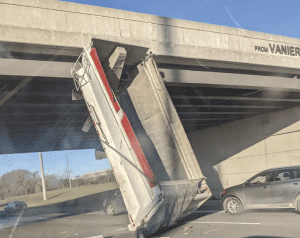 The Ministry of Transportation and Infrastructure (MOTI) have indicated that they will be releasing a monthly list of licence cancellations for cause in response to this rise in collisions. The registry will cover a three-year period, and the list contains 10 firms, with the most recent cancellation having occurred on May 17th.
A HERO'S TAIL
A cat that survived a van crash was rescued by a Thunder Bay, Ont. man after a five-day search and is eager to continue his plans for world domination. According to local news site SooToday, a van transporting Gizmo and several other animals crashed on June 29, when it collided with a moose near White River, Ont. While most animals survived and remained contained, several cages broke in the collision, allowing some to escape, including Gizmo. Unfortunately, one puppy did not survive the crash. Upon hearing of the crash, Terry Hostland, an admin of a stray rescue Facebook group, took it upon himself to rescue Gizmo, spending days searching the area around White River—more than 600 kilometres away from his home in Thunder Bay. "I couldn't just leave him out there to fend for himself. He's not a street cat, he's domesticated…He wouldn't have survived out there," he said. After five days of intense searching, setting up traps, baits and following up on local tips, Gizmo was safely found on July 25, after spending nearly a month in the wild.
TOUGH TOYOTA
Members of the collision repair industry know the ordeal achieving certifications can be—but considering what North York-based Inkas Armored Vehicle Manufacturing has to go through for its stamp of approval, OEMs should count the lucky stars that they don't have to prepare for grenade tests. The armoured vehicle developer released a video showing off what a modified Toyota Land Cruiser 300 had to endure to earn certification, which included being subject to 780 rounds of various calibre bullets, six roof-level hand grenades, four underbody grenades, two land mines and 15 kg of TNT exploded just two metres away. The test dummies inside the SUV were certainly rattled in the onslaught of bullets and explosions, as the tests were intended to target "the potential points of failure where the vehicle would be most susceptible to penetration during an attack."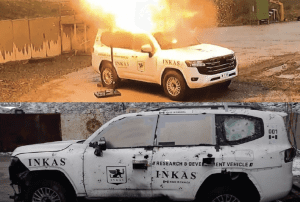 When the data for measures like survivability and pressure came back, the Land Cruiser passed the test in full. In addition to the seemingly miraculous armour plating, the SUV was equipped with a fire-suppression system, emergency lights and a siren/intercom system.
DISHONOURABLE DISCHARGE
Sometimes when you gotta go, you gotta go. This is as true for humans as it is for bears—and is especially true for one bear who has been creating chaos across Vancouver Island. Vancouver Island Police and local Conservation Officers have recently been accosted by a plethora of vehicle break-ins from one gnarly bear. The animal, presumably looking for food, has left more than 10 vehicles badly damaged, and shocked at least one vehicle owner. Stephanie Hannay, from Tofino, British Columbia, was awoken to the sound of her vehicle's horn last Saturday night. After investigating the source of the noise, Hannay spotted a bear in her backseats. "I opened the driver-side door and this head pops out in the back seat and it's just a bear. I couldn't believe it," said Hannay. "I wasn't actually sure if that was what I had seen but I freaked out and closed the door immediately and I began screaming. I wasn't sure what to do." Luckily, Hannay settled on calling the Conservation Officer report line. The police arrived shortly thereafter—but the bear had ample time to destroy Hannay's car, reportedly tearing into the interior and defecating inside. "It's just gross in there," said Hannay."It's bad. It's pretty bad. You can tell he tried to get out. He basically ripped the panelling off every single door, including the hatch. Things are just strewn around…it's a disaster."