PLAYING WITH FIRE
A fire that tore through a Charlottetown, PEI repair facility in late April has since been linked to welding work that was being done at the time. What started as routine repairs in the shop's garage quickly turned into an inferno that caused the roof of Mechanical Performance Auto Service on Brackley Point Road to collapse, and the entire building to be declared a total loss. Fire inspectors did not elaborate on what about the welding likely caused the fire to start, however, the blaze was substantial enough that it took firefighters nearly four hours to extinguish. The Canadian Centre for Occupational Health and Safety (CCOHS) suggests that a welder's first step, before even laying hands on their tools, is to survey their workspace for flammable or potentially combustible materials. This includes anything from spilled oils or fluids, cardboard boxes, paint cans, rags—even dry leaves tracked in on the floor should be swept up prior to any welding. If floor space is inflexible, flame resistant materials and screens can be set up around the welding area to contain stray sparks. Another commonly overlooked safety recommendation for shop owners is to inspect their shop floors and walls for holes and cracks. Sparks generated from welders can land inside cracks in your floor or walls and smolder, greatly heightening the potential for the building to catch fire. It is also recommended that there be appropriate time between any activities that could eject foreign particles into the air, like sanding or painting, so that any potential airborne fire hazards can be properly filtered out of the production space.
SPECIALTY SHOWCASE
Get your toolkits and suitcases ready: this year's SEMA 2022 show boasts more exhibitions addressing the automotive market's shift towards electric vehicles (EVs) than ever before. According to the 2022 Specialty Equipment Market Association (SEMA) market report, aftermarket support for the electric market is a prime area for growth. Points of note include EV conversion kits for internal combustion vehicles, OEM accessories and the knowledge to build and modify specialized EVs. Consequently, SEMA is expanding EV attention across all industries. Rather than just its own section, all sectors like automotive servicing, recycling and the aftermarket sector will have booths for EV-related services.
The 2022 SEMA Show takes place between Nov. 1 to Nov. 4 at the Las Vegas Convention Center and is open for exhibitor registration starting Oct. 27. Unrestricted registration for other tradespeople begins Oct. 31.
KING GOES FOR THE GOLD
The nation has chosen Ontario's Abigail King as its champion to represent Canada's autobody repair industry at the WorldSkills Competition 2022, set to run from Sept. 7 to Nov. 26. King is currently studying to become an auto body technician and dreams of one day running her own customs shop. She says she enjoys the physical satisfaction of working with her hands, combined with the ability to be creative and face new challenges daily. Prior to enrolling in an autobody repair program, she took a year of pre-health sciences with the thought of potentially becoming a paramedic. A harsh critic of her own work, King was hand-picked by her instructors to compete in this year's SkillsCanada events and noted that participating in the national competition "made a huge impact on how I see myself," she said. "Throughout the competition, I criticized my work and myself harshly when I shouldn't have. I now know that what I'm doing is impressive and that I should never be so hard on myself." King will be competing at one of 61 skills competitions to be held across 15 countries in Europe, North America and East Asia, as part of the WorldSkills Competition 2022 Special Edition.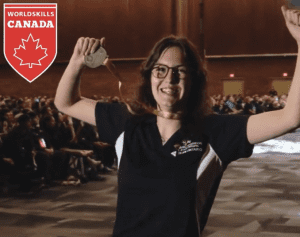 This year's competition is being held internationally in
lieu of the cancellation of WorldSkills Shanghai 2022
BUDDY SYSTEM
Collision centre owners in Nova Scotia can bring in an extra set of hands thanks to a recent amendment to the province's apprenticeship regulations. Where previously apprenticeship training was intended to be a one-on-one experience between an apprentice and a journeyperson, the Nova Scotia government has amended the Apprenticeship and Trades Qualifications Act General Regulations to allow journeypeople to train up to two apprentices at a time. Other amendments to the act include increased flexibility for virtual supervision of apprentices and exempting youth apprentices from being included in the apprenticeship supervision ratio, to remove barriers to youth apprenticeship. The government says this decision follows consultations with the industry where it was determined that ratio requirements proved to be a barrier to growth and recruitment.