VOLKS-REALITY
Volkswagen is exploring virtual reality (VR) training delivery to educate collision repair students on the automaker's technology, repairing mixed materials, joining techniques, electric vehicle repairs and more. During February's SkillsCanada Automotive Technology Summit, Volkswagen collision repair program manager Scott Wideman delivered a demonstration and discussion of the automaker's endeavours in VR training. The demo featured two videos: the first documenting a battery repair on a 2020 Volkswagen e-Tron, and the second featuring body repair technology with mixed material substrates and joining techniques. Wideman said the OEM has already launched its VR battery repair concept training for Audi technicians and it is working to someday introduce VR welding training. "The VR program will allow [students] to see what speed they are welding at, what the weld penetration is, the quality of the weld, so they can maintain that skill and develop it further," he said. "Think of the impact and what it would mean for technicians in the field."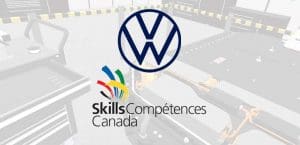 FUNDING THE FUTURE

George Brown College and Hilti Canada partnered up to help women find careers in the trades. Hilti Canada will contribute $40,000 to help expand George Brown College's Women Transitioning to Trades and Employment (WTTE) program. The provincial government funded the establishment of the WTTE in order to increase the economic security of low-income women by providing opportunities for women in skilled trades. The partnership aims to reduce the barriers to entry into trades for women and other underrepresented groups by offering scholarships, career planning, networking, mentoring/coaching, as well as employment opportunities. Hilti Canada is also donating approximately $100,000 worth of training tools so that students can start well equipped. The graduates of the program will also get new toolkits to lessen the financial impact of having to buy new tools.
AMP-ING UP ONTARIO

The provincial government has announced that plans to pump $10 million into the Ontario Automotive Modernization Program (O-AMP) to help give a kickstart to Canada's recovering automotive supply chain. O-AMP was launched in September 2019 as part of an initiative spearheaded by the Driving Prosperity: The Future of Ontario's Automotive Sector report which laid out the government's plan for establishing a stable and prosperous auto industry.
ELEVATING EACH OTHER

In a move aiming to make positive steps towards diversity within the company, Hyundai Canada has committed to investing $250,000 over seven years to support Black and Indigenous automotive students at Georgian College, according to a press release. Starting this fall, Hyundai Canada will be giving out renewable $1,000 entrance awards to eligible Georgian College students via the Hyundai Canada Entrance Award Suite, in order to highlight the automaker's continued efforts to tackle the underrepresentation of Black and Indigenous individuals in the automotive industry. The award is open to any student who self-identifies as Black or of Indigenous ancestry and is accepted into the Automotive Business (co-op) diploma program or the Honours Bachelor of Business Administration (Automotive Management) (co-op) program.
FINAL STRETCH

If you missed the provincial insurer's February announcement, Saskatchewan Government Insurance (SGI) has announced an extension to the deadline for shops to meet the new Safe and Quality Auto Repair Program (SQARP). The effective date for repair shops to meet the new accreditation requirements has been extended to July 1, 2021. "We know that many shops were ready to meet the March 1 deadline, and we thank you for your diligence as well as your patience," wrote the insurer alongside the announcement.
BURST BUBBLE

Whether you're welding or welcoming customers, wearing a mask these days is as important as ever and with public health recommendations being top priority, the Canadian Collision Industry Forum (CCIF) has decided to postpone this year's Moncton, New Brunswick event. CCIF made the call to cancel the event, originally scheduled for May, after a survey put forth to potential attendees and sponsors showed that it would be in the best interest of all to hold off on this year's show until gatherings can be held safely. For more information, you can email info@ccif.ca.