UNDER PRESSURE
"Step on a crack, break your mother's back", the old kids' phrase and superstition goes. Fortunately, for children worldwide, if a crack appears on a Tesla vehicle, they're likely to simply paint over it. A Tesla Model 3 owner reports that their car's undercarriage was found to have damage that the Tesla company covered up with paint instead of repairing properly. This damage was found during a routine tire inspection and represents at least the second instance that a similar cover-up repair has been found in a Tesla vehicle.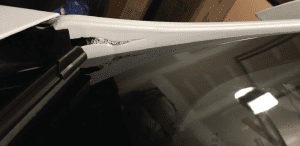 The complaint came from a German court proceeding but could potentially be of concern to Tesla vehicle owners worldwide. The court has ordered an impartial independent investigation into the matter. The investigator has confirmed that the covered-up damage is severe and that the EV in question would fail Germany's automobile safety inspection (TÜV).
SWEDISH SUCCESS STORY
Move over artists, the robots may be coming for your jobs, too. ABB Robotics says its robots have successfully painted a car with artistic designs in less than 30 minutes. A mechanized arm with an advanced print jet mechanism, ABB's IRB 5500 industrial robot successfully painted a replica of a painter's monochromatic work. According to ABB, this was achieved in a single pass with no overspray. While Bodyworx was unable to verify whether this was the world's first art car painted by a robot—see BMW's similar technology unveiled last fall—though most automated painting systems currently present in the industry appear to focus on the large-scale base coating on assembly lines.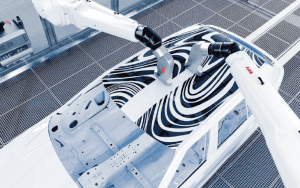 ""We are in the midst of a significant decade in the history of the automotive industry and the start of a new era," said Sami Atiya, president of ABB Robotics. "We are working to support the industry in this transition and I'm confident that with flexible automation, sustainable transportation will fast become reality.""
SPRAYING WITH SEWAGE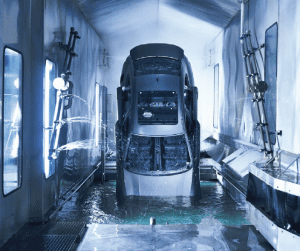 BMW is partnering with BASF to develop the next generation of paints using an innovative new material—sewage waste. Euphemistically dubbed "sustainable paints made from bio-waste," these matte paints are part of the company's focus on sustainability and reduced CO2 emissions. Most importantly, these new paints are chemically identical to previously manufactured body coatings and share the same properties as their oil-based predecessors. BWW Group Plants Leipzig and Rosslyn (South Africa) are expected to use similar processes to create corrosion protection paints, effectively replacing petroleum-based components like naphtha with renewable alternatives.
MIRROR, MIRROR
Shape-changing mirrors, a horror movie classic, coming to a car near you! A recent patent by General Motors (GM) describes a mirror that reshapes in accordance with the driver's behaviour, with the goal of improving driver awareness. The patent describes a motorized housing around the mirror, turning it from a flat mirror into a fisheye mirror. Think of the extra field of view from rounded anti-theft mirrors in stores and you get the idea. Sensors adapt to information from the car automatically. Information like the vehicle's turn signal status and lane merging would allow the mirror to transform accordingly without driver input.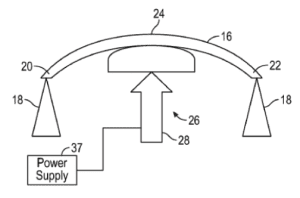 While no prototype has been showcased yet, the patent suggests that materials like silver and stainless steel would be used as a reflective surface. However, it does not elaborate on whether this alternative will be as clear as traditional glass mirrors.